Tens of thousands of women gathered in Mexico City and across the country on Sunday to protest a rising wave of femicides and sexual harassment, chanting "Vivas Nos Queremos" ("We Want Ourselves Alive").
The march protesting violence against women was the culmination of weeks of social media activism, with several hashtags emerging to draw attention to sexual harassment and assault.
G/O Media may get a commission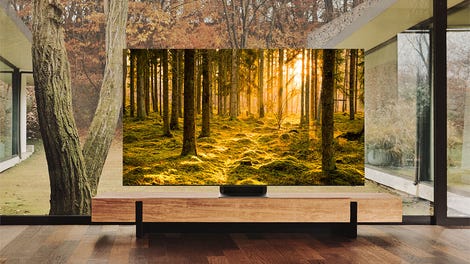 Up to 40% off
Samsung Smart TVs
"In my whole life I've never seen so many open conversations about harassment," says Paulina Bustos, a 29-year-old Mexican woman who was at Sunday's protest. "And that people accept that it happens and there's a lot of things we can do about it."
The hashtags women have been spreading on Twitter and Facebook appear to be germinating a new social movement. They translate to "No Means No," "Don't Remain Silent," and "My First Harassment."
That last hashtag is being used by Mexican women to share their stories about sexual harassment on social media, in the hopes of showing how it has become a widespread problem that has long gone unnoticed, and is many times silenced.
"My first harassment: It wasn't the first one, but it was the worse. A guy came on my pants in a very crowded bus. I didn't know what to do, and I still don't know."
"My first harassment: At 19, when walking in the street, going to my college. A man offered me money to stick his hand in my underwear. I ran."
"I was 11 and a guy riding a bicycle came by and squeezed my breast. A woman on the street blamed me for wearing that blouse."
"In the subway an imbecile touched me everywhere while he masturbated. No one helped me although I cried and shouted. I was 16."
Some women are launching their own social awareness campaigns about incidents of harassment on public transportation in the hopes of inspiring others to come forward.
One young woman, Andrea Noel, a 26-year-old journalist who's contributed to Fusion, recently launched a video talking about her own experience with sexual assault to encourage others to speak up.
"If someone assaults you in the street, report it," say the women in the video. "Don't be silenced. If networks threaten or attack you, report it. Don't be silenced. If the media or authorities blame you or criminalize you, report it. Don't stay silenced."
Encouraging women to speak up is one thing, but Noel told Fusion that law enforcement still seems to be stacked against the victim. When she reported her own sexual assault, she was put through a series of grueling psychological tests that questioned her mental stability. That's a common practice for police dealing with sexual assault victims, she said.
"The mere fact of raising your voice opens up the channel for so much backlash, from the media and from police and from individuals," she said. "Women need to report these crimes but it's absolutely excruciating, the process."
Many of the women sharing their stories online say they faced ridicule or were simply ignored when they tried to report that they'd been attacked. Noel's video encourages them to keep trying. It has more than 52,000 views on YouTube, and is being shared by many women on Facebook and Twitter.
One 29-year-old woman, who preferred not to give her name because of safety concerns, said the video and the message #NoTeCalles (Don't remain silent) resonated with her after years of dealing with street harassment, but particularly after she was sexually assaulted by a man she knew at a friend's party.
"Is not easy to even know what to do. Like I feel I do not want to handle that right now, I don't feel I have the strength," she told Fusion. "But I keep seeing him. He is a friend's boyfriend and it's been hard to know what to do or how to react. So for me that's why the video resonated so much."
A series of public scandals has also helped create a new climate for speaking up against violence. Mexican media recently exploded with the story of "Los Porkys," a clique of wealthy kids that was accused of sexually assaulting an underage girl.
On Sunday night Mexican President Enrique Peña Nieto tweeted his support for the campaign. "Today millions of voices were heard on women's rights. My commitment to them is firm and decisive," he wrote.
Mexico even appointed a Special Prosecutor for Crimes Against Women in an attempt to stem the relentless tide of violence against women. But last year the special prosecutor, Nelly Montealegre Diaz, admitted that her office had not prosecuted any femicides in an entire year.
In an interview with Al Jazeera America, she blamed the lack of prosecutions on corruption in government and law enforcement, but highlighted that real change would only come through a shift in culture. "If a worker sees a [female] colleague with a black eye or the father hitting the mother, they think it is normal. Women are seen as objects," she said.
Violence against women in Mexico has become generalized and society seems mostly desensitized to it. The culture will not change overnight, but women are coming together to challenge the silence by speaking up and denouncing perpetrators.
"I was incredibly proud to see those protests yesterday, and that's as a direct result of all the women who have stood up in the past weeks and chosen not to stay silent about this," said Noel. "I think that's the way change comes about, by one person, and then four people, and then four hundred, and then four thousand speaking out."