McDonald's has underestimated the power of the Mexican tamale.
In major blunder wrapped in egg and sausage, McDonald's yesterday unveiled a new Mexican-inspired "McBurrito" with the ill-conceived ad slogan, "Tamales are a thing of the past."
Needless to say, the campaign has left a bad taste in Mexicans' mouths.
G/O Media may get a commission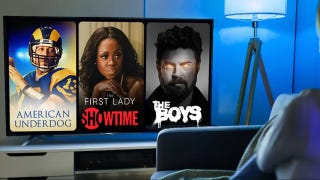 UNDER $1
99¢ Prime Video Channels
Tamales are a traditional masa-based, leaf-wrapped food. It's Mexicans go-to comfort food. So when the gringo burger joint took a swing at the tamal, Mexican nationalism came out in full force on social media to denounce McDonald's culinary blasphemy.
"How dare you insult a beautiful tradition, I'd rather eat tamales than your horrible rotten products," posted Facebook user Damian Bracho.
Mexicans also took to Twitter to attack the McMistake:
"What an idiot! Who was the McDonald's creative that came up with this idea?"
"McDonald's says Tamales are a thing of the past; eat one of their rat meat burritos."
Some even went as far as to acuse McDonald's of promoting economic imperialism:
"So transnational, don't mess with our tamales!"
And one of Mexico's most popular television news anchors, Joaquín López-Dóriga, even weighed in:
"The latest stupidity from McDonald's; now I understand why their sales are dropping."
Fusion reached out to McDonald's corporate in Mexico City, but they did not comment by press time. The company did, however, remove the short-lived ad campaign.
Note: Updated on Feb. 5, with McDonald's apology:
Translation:
McDonald's respects the traditions and beliefs of all countries in which we have the opportunity to work. Consequently, we include local dishes on our menus with the objective of highlighting the values and culture of each country. All of the dishes on our menu are made with national ingredients, which allow us to offer fresh and great quality food.
We would like to extend an apology to those whom we might have offended with yesterday's publication in relation to the Day of the Candelaria, which has already been removed from our social networks. We would like to clarify that in no instance did McDonald's Mexico attempted to discredit traditional Mexican food celebrations like tamales.