It's no secret Mexicans have an obsession with breaking records and on Saturday hundreds flocked to Mexico City's Monumento a los Niños Heroes determined to set the Guinness record for the selfie with the most people in it.
Or so they thought…
"I'm not judging that event," Guinness World Records judge Alexander Angert said as the feat was well under way. "That's not a record that we're measuring."
Guinness doesn't have yet a category - with specific requirements and rules - for "the world's largest selfie" record attempt. However, the event organizers of recordselfie.com failed to mention that to draw a large crowd.
G/O Media may get a commission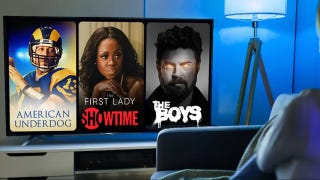 UNDER $1
99¢ Prime Video Channels
Once gathered and under the watchful eye of Guinness official Angert, the event organizers started scrambling for alternatives and decided to try for two other selfie-related records.
Today's attempt at most people tagged in a single selfie on social media will be judged in the next few days, Angert said.
But the second attempt, which lasted more than two hours, was apparently a success, pending Angert's approval.
Mexico tried, last minute, to beat out a record set last month in South Carolina for the longest chain of selfies taken. With today's unofficial tally of 756 selfies captured in sequence, it seems the previous record of 531 selfies was shattered, pending Guinness approval.
Organizers had to make sure all heads where visible and that the photograph contained the selfie trademark; an arm holding the camera. The selfie will be published Thursday.
"Guinness sent us the rules late, so we had to come up with alternatives," an organizer said just before the event wrapped up on Saturday.
Saturday's selfie chain is the third selfie record Guinness officials have registered in less than a month.
"The selfie is fashionable right now," one of the organizers said before the event. "We wanted to use it to bring attention to Mexico, so that people can see that there are also cool things happening here."
And selfies have become a great way to get noticed.
Hollywood actor Dwayne "The Rock" Johnson set a selfie record on May 22 — the day after the first selfie chain record was set — for the most selfies taken in three minutes, after snapping 105 photos with fans.
But Mexicans didn't shy away from The Rock and set out to beat him.
Lately Mexico City has become a breeding ground for these types of experiments, this isn't the first time a record-breaking photo has been tried in the capital.
In 2007, American artist Spencer Tunick gathered more than 18,000 people at the downtown Zocalo to snap the largest gathering of figures posing nude.
Photo by Maegan Tintari/Flickr.
Mexico has a long history of Guinness World Records, some more unfortunate than others.
In January 2011, Mexico received the uncomfortable Guinness record of racking up the most people killed in a drug war, with 15,273 involuntary participants according to Guinness officials — that figure now exceeds 120,000 dead.
But Mexico is much more than that and nowhere is it more evident than in several bizarre record-breaking victories ranging from massive choreographed dances to cooking giant food plates.
In 2009, a Michael Jackson impersonator calling himself Hector Jackson led 13,597 people as they danced to "Thriller," just miles from the site of Saturday's record-setting selfie.
Six months before, on Valentine's Day, close to 40,000 people gathered downtown to set a record for the most people kissing simultaneously.
The state of Oaxaca has the world's thickest tree, Colima has the biggest coin collection, and the country claims the world's largest "hairy family" — some of whom perform in the national circus.
Mexico's food-related records read like a surrealist luncheon — with awards for biggest gathering of people dressed as chefs and the world's largest waiter race, both in Mexico City, plus enough giant food records to fill a menu.
The list includes the world's largest taco, burrito, enchilada, shrimp cocktail, ceviche, caesar salad, glass of orange juice, mug of cocoa, a record-smashing bowl of guacamole, and the world's longest tamale — to name just a few.
Mexico also hosted the world's largest beer tasting event, featured the widest variety of tequila on display, and holds the record for most people at a barbecue.
In March, a Gillette factory in Guanajuato gathered 2,374 employees and their family members for a simultaneous shave. And three years ago, 16,000 illuminated lanterns were released into the skies of Puebla to raise awareness for people with disabilities.
In what seems like a missed opportunity, the record for the world's longest selfie stick remains unclaimed as of June 13, 2015.
Don't doubt Mexicans will go for it.
For more Fusion Latin America news, follow us on Twitter @FusionLatAm
Andrea Noel is a freelance journalist based in Mexico