ACAPULCO Mexico—Violent crime is a familiar problem at CBTIS 14, a public high school in Acapulco's western suburbs.
Armed youths occasionally rob students of their cellphones as they climb the steep hill to school, and last year a teacher was forced out of his car at gunpoint in an apparent kidnapping attempt.
But things took a turn for the worse on Feb. 26, when two armed men in a car without a license plate approached the school gate and asked for the principal. Earlier that day the school had received an extortion call from someone claiming to be a member of a local cartel.
"They said that if we didn't give them money they would come for us," a school administrator told me in a hushed voice. "So we decided to cancel classes as a security measure…and to pressure the government to give us security."
Classes resumed the following week, but only after the army deployed three heavily armed soldiers to guard the schoolhouse.
G/O Media may get a commission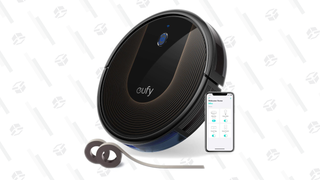 48% Off
Eufy BoostIQ RoboVac
"It makes us feel safer—at least while we're at work," said the administrator, who spoke to me on the condition of anonymity.
Schools are regularly targeted by criminal groups in Acapulco, a city where street crime and cartel violence have devastated the once vibrant tourism industry.
Teachers' unions and school administrators have increasingly responded to extortion attempts and kidnappings by canceling classes for days—or even months—until the the government militarizes schools with soldiers and federal police patrols.
In November, 17 schools in Acapulco's rough periphery were forced to end the fall semester early as cartels reportedly demanded a cut of teachers' Christmas bonuses. Two months later, 29 schools shuttered in response to extortion threats from gangs, according to the local public servants' union.
Principal Orlando Morales, who heads an elementary school in Acapulco's historical center, closed his classrooms for three days after he received an extortion call in February from a man who identified himself as a member of the Los Rojos gang. He reopened the school last week, only after the local military command deployed two soldiers to guard the building.
"It's a new experience for us," said Morales, who's been at the school for 30 years. "Ideally we would be solving this problem with parents and the community's cooperation, but nowadays you need to take more drastic measures."
It's not just schools that are being extorted in Acapulco.
Locals claim that nightclubs, shops, market stalls and even street vendors have to pay "fees" to criminal gangs and drug cartels that are reportedly diversifying their sources of income as the Mexican government cracks down on drug dealing.
But schools seem to be one of the gangs' favorite soft targets.
"They might be thinking that because teachers have regular salaries, there is lots of money here," said Florentino Valdez, director of an elementary school in Renacimiento, one of the rougher neighborhoods of Acapulco's impoverished periphery.
Valdez's school was one of 190 that was decided to close its classrooms amid extortion threats and kidnappings in 2014; many of these schools have since reopened with some kind of military protection.
"It makes you feel more calm, a bit safer…but the only one who you can really trust is God," said a parent at Valdez's school.
Militarizing schools, of course, is not a sustainable solution to Acapulco's extortion problem.
Francisco Hoyos, who works for the Mexico City Citizen's Council an anti-crime nonprofit, says that extortion in the capital has been reduced significantly by teaching people to take "security protocols."
Such protocols include hanging up immediately on strange callers to avoid extortion threats from cartels or other criminals pretending to belong to cartels. Extortion attempts should also be reported as soon as possible, Hoyos advises. His organization has come up with an app that enables people to immediately report threats and block calls from people trying to extort.
But schools in Acapulco aren't taking any chances. They want protection from men with guns, and teachers' unions aren't afraid to use their collective power and the threat of canceled classes to demand soldiers in their schools.
"Many schools prefer to have the army and marines [guarding them], because we assume that they are cleaner" than the local police, said Jose Gama, a trade school principal in western Acapulco. "Closing schools has become a form of protest."
Manuel Rueda is a correspondent for Fusion, covering Mexico and South America. He travels from donkey festivals, to salsa clubs to steamy places with cartel activity.