MEXICO CITY — Mexico woke up Wednesday morning to seemingly impossible news it wasn't prepared to digest: Donald Trump is now President-elect Trump.
It put Mexican President Enrique Peña Nieto, who has criticized Trump's candidacy and has been criticized for not doing so more, in the awkward position of having to acknowledge Trump's win, but without congratulating him directly.
"The American people have chosen their next president," Enrique Peña Nieto tweeted carefully. "I congratulate The United States of America for the election and reiterate to Donald Trump the willingness to work together in favor of the bilateral relationship."
"Mexico and the U.S. are friends, partners and allies that must continue to collaborate for the competitivity and the development of North America," Peña Nieto added. "I trust Mexico and the United States will continue to stretch their bonds in cooperation and mutual respect."
G/O Media may get a commission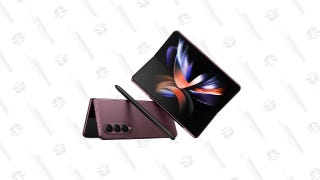 Save Up to $300
Galaxy Z Fold4
Meanwhile Mexico's Finance Ministry and Central Bank called a joint press conference at 7 AM this morning to try to calm market jitters and prevent the peso from depreciating further against the dollar. But banking officials didn't say much other than assure that the government would continue to monitor the situation closely and react accordingly. So the press conference was essentially to say that Mexico would act, but isn't yet.
Newspapers led with headlines that included the terms "nightmare" and "Trump shock" as journalists started pressing Mexican officials for additional comments on Trump's campaign promises to build a wall along the border and deport millions of undocumented immigrants.
"Paying for the wall is outside of our purview," Foreign Affairs Minister Claudia Ruiz Massieu told Mexican news anchor Carlos Loret de Mola on Wednesday morning. She said that the Trump campaign and the Mexican government have kept open lines of communication since he visited Mexico City as a candidate.
Ruiz Massieu would not elaborate on whether President Peña Nieto's tweet was meant to congratulate Trump on his victory. "The government of Mexico has recognized this electoral process and that there is a president-elect," she said, when pressed on the issue.
The rest of the country woke up with an election night hangover today after watching in disbelief as Trump won state after state. Plans to celebrate a Clinton victory at the iconic Angel of Independence monument vanished as the vote returns kept turning the map red.
The mood in Mexico today is grim as both the government and its citizens secretly hope that Trump's hateful rhetoric about their country was just a campaign strategy to rally the conservative base.
Neither Mexico nor the wall was mentioned during Trump's brief victory speech last night. And Mexicans are biting their nails in anticipation of when he's going to bring it up again.