MEXICO CITY – "Let's go to the liquor store and stock up before the hurricane hits," one of my former high school buddies typed into a WhatsApp group rallying us to party at his house.
He was only half-joking. Many hoarded beer and alcohol in anticipation of this weekend's Ley Seca or "Dry Law," a two-day prohibition on booze that's intended to promote sobriety for today's elections, but usually has the opposite effect. The booze ban went into effect Friday night at midnight, and lasts until Monday. But that's too long for many Mexicans.
"Have fun on Friday and rest on Saturday," Mexico City officials recommend hopefully. The implicit bargain is that Mexicans will wake up on Sunday feeling clear-headed and pure of heart, ready to cast their ballots peacefully and democratically.
G/O Media may get a commission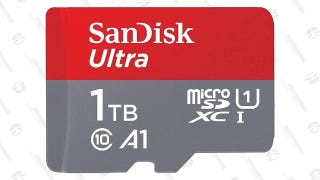 Save $75
SanDisk Ultra 1TB MicroSDXC Card
But instead of promoting healthy and reflective rest prior to the vote, prohibition seems to trigger a collective panic and unquenchable thirst that many try to drown in private. Local businesses also push back against the ban, and this year managed to successfully lobby the city government to allow hotels and restaurants to sell booze with food (six tequilas and a side of fries, por favor). But all bars and clubs were shuttered Friday at midnight, pushing many youngsters to retreat to house parties and underground speakeasies throughout the Mexican capital.
Chilangos — as Mexico City residents are known— were not the only ones who had to go cold turkey for 48 hours. The dry law extended to several key electoral states including Guerrero, Oaxaca and Nuevo León.
"The economic loss is in the millions," wrote Mexican political pundit Sergio Sarmiento. "The dry law serves no purpose," he complained. "It's simply a moralist action from some politicians that feel superior to citizens and feel that they have to impede them from behaving badly."
This year's dry law comes at a particularly bad time, seeing that it coincides with the soccer final of the UEFA Champions League —the world's most viewed sports event after the FIFA World Cup championship. Also, Mexico is playing Brazil in friendly match Sunday afternoon, at the same time the elections are taking place. This soccer game is such a big issue that lawmakers and candidates even lobbied to change the game in an effort to increase voter turnout, but the Mexican Soccer Federation said it had no political obligation to do so.
"Let's support our team. Don't forget to vote, let's go with the greens," popular Mexican national team soccer coach Miguel Herrera tweeted Sunday morning. "The greens do deliver." Some allege this was a wink at Mexico's Green Party (PVEM).
Soccer: 1 - Democracy: 0.
"Guey, there was no beer at supermarkets; the shelves were empty," says law student Rafael Ojeda upon arriving at my friend's precopeo carrying only a six-pack of beer. "Ley Seca couldn't be more stupid. The government bans booze but they can't even fix campaign violence in Guerrero. Estamos jodidos."
Ojeda takes a shot of tequila and follows with a pull on a warm beer.
"Who you're gonna vote for?" I ask him.
"Don't know yet," he says, only half listening. "Hey are you guys watching the soccer match?"
My friend's attitude toward the midterms are reflective of the national attitude, analysts say.
"Apathy and abstentionism are the worst enemy of a nascent democracy," said Allert Brown, a visiting professor of international studies at ITAM, a private university in Mexico City.
This is particularly acute in this year's midterm elections as teachers' unions call for a boycott in Guerrero and Oaxaca and some prominent intellectuals call on voters to annul their ballots with social media hashtags #CancelYourVote and #Don'tSettle.
But one of the main reasons many young Mexicans aren't interested in voting is because they don't identify with any political party. Some have lost faith in the system as a whole. According to a 2013 report by the Mexican Institute of Youth (IMJUVE), approximately 9 out 10 young Mexicans said they have "little" or "no" interest in politics.
Instead of debating the issues this election, many young Mexicans are debating the logic of the dry law, as well as the outcomes of the weekend's highly anticipated soccer matches.
"I don't think dry law is gonna change anything," said Ruben, a visual communications student. "We're living in a time when social discontent is at its peak. No one believes anymore in the INE, in government, no one believes in anyone. Everyone is on their own. And you can't really blame alcohol for that."
"Elections are an aberration. They talk about democracy, but there's none of that here. They just sweeten the pill. We already know who's going to win," said street vendor Hector López. "Dry law doesn't affect me, anything is possible in Mexico; law or not there will be booze."
Mexico's electoral authority projects voting abstention above 50 per cent — which is consistent with previous midterm election turnouts. Most polls predict the incumbent Institutional Revolutionary Party (PRI) will retain its political positioning in the lower house of Congress, despite facing a crisis of credibility over the past year.
As for the Mexico vs. Brazil match… that'll be the real nail-bitter.
Photographs by Emilio Espejel and Miguel Morteo
For more of Fusion's coverage of Latin America, follow us @FusionLatAm