ACAPULCO, Mexico—The sun scorches the sidewalks of this steamy port as a group of women in their twenties put on make-up and get ready to hit the streets.
They are Acapulco's new tourist police assistants. And unlike the machine-gun toting federales that patrol the city in black ski masks, these female cops are armed with fuchsia lipstick, slim-fit polo shirts and a 100-watt smile. Eighty-five percent of the new cops are college-age women, and none of them carry guns.
"We want people to trust us, and approach us," said Yaneli Silva, a 20 year-old who alternates her college studies with her new job working for the tourist police.
"If you provide a good image, people will leave this place with good memories and hopefully they'll come back," she adds, after posing for a picture with a tipsy and flirtatious middle-aged tourist.
G/O Media may get a commission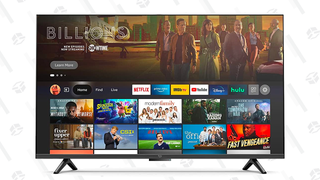 22% off
Amazon Fire TV - 50" Omni Series 4K - Early Access Deal
Acapulco has been struggling to attract international visitors amid soaring crime rates. The city of 800,000 has gone from being Mexico's spring break capital to its murder capital, with the highest murder rate in the country.
But officials in Acapulco insist that most of the violence is happening outside the heavily guarded and relatively safe strip of hotels and restaurants that borders its stunning beaches.
The city's young police assistants, who are mostly college students in khaki shorts, are one of the latest efforts to make this town appear more friendly and approachable. Their job, according to Acapulco's police chief, is to assist visitors who have had accidents or want to file complaints, or those who are simply looking for tourist information.
"We want to change the perception that people have of our police forces," said Manuel Flores, Acapulco's chief for public security. "I want our first point of contact to be a friendly face that is not strict or tough."
Flores said that he built a force of mostly young women because they are more "approachable" than men.
"Women are less likely to ask for bribes," Flores added. "It is scientifically proven."
It's a new image for Acapulco public security, which usually comes in the form of military boots and big guns. And while the new cops are raising eyebrows, local business owners seem to appreciate the softer approach to policing.
"I think they reinforce our identity as a tourist destination," says Alejandro Martinez, a sports bar owner. "I respect what the military is doing.  But I'd rather have those girls standing outside my place than a soldier with a large gun."
So what are the new police unit's job qualifications? Police Chief Flores says there were three things he looked for when recruiting the 45-member tourist assistant squad. First, they had to be "committed to Acapulco's progress." Secondly, they had to be students. And finally, Flores says, "it helped if they were cute" — though he quickly adds that "cuteness" was not mandatory.
"I've got fatties, thin ones, everything," said the police chief, with little regard for political correctness. "The fatties you see there really earned it. They ran, marched, and swam during training like everyone else."
Although the new tourist unit has been criticized by some as a "fake police" —they've only conducted one arrest in their first three months— Flores says he is already planning to expand the initiative to tourist beaches in Acapulco's eastern suburbs.
The police chief defends his new unit's work, and notes that it's the federal government's responsibility  to investigate murders and tackle organized crime. While the federal police and the military go after drug gangs in the slums, Flores said that his charming tourist police assistants are ready to welcome gringos to the safer parts of the city.
"If international tourism comes back, the city will have more income to spend on things like education," Flores said.
His recruits seem to be onboard with the mission.
"We are here to revitalize Acapulco," said Arianna Calderon, a 20-year-old communications student who joined the new police force in December. "Our intention is to take care of tourists, and pamper them, so that they will keep on coming."
All photos by Tania Miranda
Manuel Rueda is a correspondent for Fusion, covering Mexico and South America. He travels from donkey festivals, to salsa clubs to steamy places with cartel activity.