Here's an astonishing but true sentence: MGM Resorts International has filed federal lawsuits against more than 1,000 victims of last October's mass shooting in Las Vegas in an apparent attempt to avoid liability.

Gunman Stephen Paddock killed 58 people and injured hundreds more from a room in MGM's Mandalay Bay Resort. It was one of the deadliest mass shootings in American history.
To sue victims of this shooting may seem, oh, unconscionable, but don't worry: MGM has an airtight excuse. The lawsuits are "an act of compassion for the victims," MGM spokeswoman Debra DeShong said in a statement Monday. She further explained:
"The federal Court is an appropriate venue for these cases and provides those affected with the opportunity for a timely resolution. Years of drawn out litigation and hearings are not the best interest of victims, the community and those still healing."
What the hell?
MGM argued that any lawsuits holding the company responsible for injuries and death that occurred during the shooting should be "dismissed" because the company took reasonable precautions to prevent mass violence, such as hiring a security vendor.
G/O Media may get a commission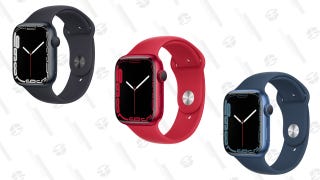 Up To $45 Off
Apple Watch Series 7
The basis of the argument stems from a 2002 federal act which extends liability protection to any company that uses "anti-terrorism" technology to help prevent and respond to mass violence.
Las Vegas attorney Robert Eglet, who has represented several Vegas shooting victims, said MGM's decision to file the complaints in federal court, instead of state court, is a "blatant display of judge shopping."

"I've never seen a more outrageous thing, where they sue the victims in an effort to find a judge they like," Eglet told the Las Vegas Review-Journal. "It's just really sad that they would stoop to this level."