Too often scientists don't connect with the public as they convey important information. When it comes to ordinary people, the thick paper stacks and never-ending studies are a turn off.
That's something that artist Eve Mosher, and co-coordinator Heidi Quante, knew about when they decided to bring the Highwater Line project to Miami and Miami Beach. As a way to get the community involved and informed about the consequences of sea level rise, the two helped organize a visual display of how it might impact local residents.
Using computer models to map out the topography of the areas, and with the help of local residents, they drew a 26 mile line through the two cities, demarcating houses and entire neighborhoods that might be underwater. Two line were drawn, one at three feet, and one at six feet.
In 2007, the Mosher drew the same kinds of lines in New York. When Superstorm Sandy hit last year, some of the lines she drew were shockingly accurate.
Staring down a line drawn on Biscayne Boulevard, one of the city's main thoroughfares, participant and local resident Francine Madera commented on the message that such a line sends to residents.
G/O Media may get a commission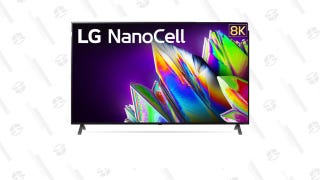 LG 75-Inch 8K TV
"It's a pretty dramatic display" Madera told Fusion.
She pointed to the buildings behind her, across the line that she is in the middle of drawing.
"We actually live right there," she said, alongside her boyfriend. "And he is a homeowner… So this affects us quite a bit."
As they walk the chalked-through the city, participants in the project were stopped by fellow residents wondering what was going on. Every exchange was an opportunity to inform the public about some of the scientific models out there.
"We're just doing the project to bring awareness of where the lines would hit, and what would actually be underwater to give a perspective," Madera said.
Grey Maggiano, assistant priest at the Trinity Cathedral in Miami, knows first hand that a plan needs to be in place.
"[Climate change has] had a big impact on our church. We just had a 7 million dollar renovation project caused mostly by impacts caused by climate change," he said. "The roof of the cathedral was blown off during Hurricane Wilma, and since then the cathedral has also been sinking into the bay, because we are right there on Bayshore Drive."
"As Christians we are taught to love our neighbor. And as the biggest church right there on the bay, our biggest neighbor has been the Bay of Biscayne," he continued. "The reality is that we have been pretty crappy neighbors to the bay for the last 50 or so years."
According to the Organization for Economic Co-Operation and Development, Miami ranks number one in terms of assets exposed to coastal flooding, due to extensive coastal development at sea level.
Locally, the governments of Miami-Dade and surrounding counties have started organizations to deal with climate change issues as a region. Other big cities like New York have also started making preparations on their own accord. But nationally, the response has been much slower.
Madera thinks planning ahead for the creeping reality is an obvious answer.
"We have storm plans and hurricane plans, but we need plans for if the sea rises, and it never goes out."
Daniel Rivero is a producer/reporter for Fusion who focuses on police and justice issues. He also skateboards, does a bunch of arts related things on his off time, and likes Cuban coffee.