Former New York City mayor and media magnate Michael Bloomberg is too goddamn rich. You know how I know he's too rich? Because according to CNBC, he's planning to spend nine figures on a presidential campaign that nobody wants or asked for.
Per CNBC:
Howard Wolfson, Bloomberg's top political advisor, in an email hinted at how much his boss would look to invest into his own potential campaign for president.

"Mike spent more than $100 million in his last mayor's race. Last time I looked, NYC is a fraction of the size of the country as a whole," he explained. The last time he ran for public office was in 2009, when he ran for re-election as mayor for a third term and pulled off a victory as an independent.

Bloomberg spent more than $110 million backing Democrats during the 2018 congressional midterm elections. When asked if he would spend at least that on his own campaign, Wolfson replied, "Whatever is required."
Whatever is required! Money is no object for me, the tenth-richest man in the world. That's why I'm choosing to launch $100 million into the fucking sun rather than doing, I don't know, anything else with it.
Bloomberg, who held a fundraiser for virulently Islamophobic GOP Rep. Peter King this year—a year where King was running against lefty Liuba Grechen-Shirley, an election which King won by the smallest margin since his first election to Congress—switched his registration to Democratic earlier this year. Along with his big investment in Democratic congressional campaigns and his post-election meeting with Nancy Pelosi, speculation is mounting that Bloomberg would run as a Democrat in this hypothetical campaign rather than mount a third-party bid. (Considering Bloomberg's history, however, it's no given that he'll run at all.)
G/O Media may get a commission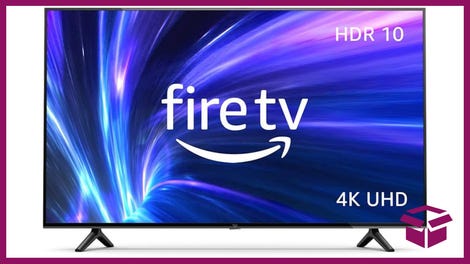 42% Off
Amazon Fire TV 50" 4K Smart TV
If it's the latter, Bloomberg would likely help re-elect Donald Trump. And if it's the former? The Democratic left is stronger than it's been in years, and even more moderate Democratic partisans are likely skeptical of the prospect of voting for a former Republican mayor of New York in a Democratic presidential primary field that'll likely have more people in it than the Polyphonic Spree. That's before you take into account that Bloomberg's message appears to be that Democrats should love banks more, stop and frisk worked, and alleged sex pest Charlie Rose is actually good.
Either way, you just gotta respect Bloomberg for continuing to move forward—in the face of such adversity—with his plan to become 2020's Jeb Bush. Thank you for your service, Mike. Someone has to do it.