In a far-reaching wrongful death lawsuit filed this morning, the family of Michael Brown is asking for damages stemming from the "loss of love, companionship, affection, care, and society," among other things.
Last August, Brown was shot and killed by Darren Wilson, who was then a police officer for the City of Ferguson. Controversy surrounding his death drew protests nationwide, which came to a head when a grand jury decided not to press charges against Wilson last November. Locally things turned ugly, as rioters and looters burned several buildings down to the ground in anger.
Thursday morning's suit is the family's last legal resort in its quest for official accountability for Brown's death. It was filed not only against former officer Darren Wilson, who pulled the trigger, but against former police chief Thomas Jackson, and against the City of Ferguson itself.
Overall, the lawsuit makes seven allegations against defendants, ranging from deprivation of Brown's right to life, to alleging police were not properly trained, and that the Ferguson PD engages in a pattern of unreasonable stops and use of excessive force.
Former police chief Jackson, one of the defendants, resigned after the Department of Justice issued a scathing report about the Ferguson PD, detailing what it called a pattern of abuse against the city's black residents.
G/O Media may get a commission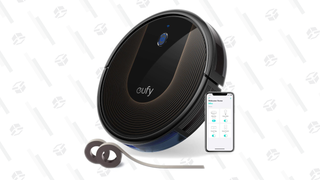 48% Off
Eufy BoostIQ RoboVac
That DOJ report and its findings about pervasive racial bias and use of force incidents are the backbone of the lawsuit. "Such repeated habits created a culture of unjustified police conduct within the City, which led directly to the unjustified killing of [Brown], " reads the complaint.
DOCUMENTARY: Ferguson: A Report From Occupied Territory
Previously, the DOJ had investigated the incident to determine whether criminal charges should be filed against Wilson. In the end, it decided that the case "lacks prosecutive merit and should be closed."
Even so, that doesn't mean that the lawsuit cannot prevail. Civil lawsuits have a lower burden of proof than criminal suits, which makes them much easier to win.
The complaint offers a window into the family's legal argument, which will seek to capitalize on the patterns unveiled by the DOJ report. Page after page of the complaint is filled with specific incidents that the DOJ uncovered, which the family's attorneys will presumably use to illustrate that Brown's case falls under the umbrella of that same unfortunately abusive pattern.
However, even if the family can correlate Brown's death with the patterns of the police department, there will likely be struggles to prove some of the counts.
In the "common factual allegations" section of the suit, the prosecution relies on a disproven (if not legally frivolous) account of events, which maintained that Brown had his hands above his head at the time he was shot, and that he posed no threat to officer Wilson.
Again, civil trials are easier to win than criminal trials. But the fact that the prosecution is relying on such a consistently and thoroughly disputed account of events will not make this an easy case.
The family is seeking $75,000 in damages for "compensatory damages, including medical treatment for psychological damages."
It is also asking for lawyer fees, a court order to change police training policy, civilian oversight of the Ferguson PD for a five year period, money for "loss of future support," punitive damages, and anything else the court might deem necessary.
Often, wrongful death lawsuits involving police reach settlements before the case actually goes to trial. That could be the case here, but it is too early to tell. What is known is that if this morning's suit goes to trial, the whole world will be watching.
Daniel Rivero is a producer/reporter for Fusion who focuses on police and justice issues. He also skateboards, does a bunch of arts related things on his off time, and likes Cuban coffee.