Forget Kate Upton loving her boobs or Kim Kardashian breaking the Internet. When asked which celebs represented the best body image role models for women, both genders chose Michelle Obama and Jennifer Lawrence.
Yes, both women and men chose kick-ass over just ass.
The findings are part of Fusion's Massive Millennial Poll, which surveyed 1,000 people aged 18 to 34 about everything from politics to dating to race issues. (For full results and methodology, click here.)
When interviewed about body-image heros, 26 percent of men and 25 percent of women picked the first lady as the best role model for women, followed by Jennifer Lawrence. The Hunger Games star snagged 29 percent of the vote from women and 21 percent from men, further proving "The Fappening" hackers are just a bunch of losers.
The fierce ladies beat out celebs including Kate Upton, Beyonce, Mindy Kaling, and Kim Kardashian – who came in dead last across both genders.
G/O Media may get a commission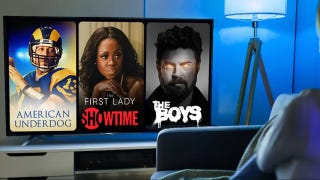 UNDER $1
99¢ Prime Video Channels
Given that too many women in this country feel an unhealthy pressure to be super-model thin and around 20 million have suffered from an eating disorder, the first lady – the only non-traditional "celeb" on the list – is a refreshing choice.
Obama has devoted her time in the White House to encouraging health, strength, and well-being. She spearheaded the "Let's Move!" campaign, which promotes healthy eating and regular exercise. And of course, she and her famous arms can do a lot of push-ups.
As for male body-image role models (guys have body issues, too), men picked Lebron James (17 percent), Channing Tatum (12 percent), and savior of the Galaxy Chris Pratt (12 percent) as their idols. Women said Channing Tatum was the best body-image hero for men – perhaps because they've simply seen more of him. Exhibit A, B, and C.
Fusion's Massive Millennial Poll surveyed 1,000 people between the ages of 18 to 34, with a general population sample and an overall margin of error of plus-minus 3.1 percentage points. The interviews were conducted via telephone from Jan. 6 to Jan. 11. For more on our methodology and poll results, click here.
Taryn Hillin is Fusion's love and sex writer, with a large focus on the science of relationships. She also loves dogs, Bourbon barrel-aged beers and popcorn — not necessarily in that order.