I did it and you can do it too.
That was the message First Lady Michelle Obama urged students to not only hear, but internalize, during remarks at a Washington, D.C. high school Tuesday morning.
She might be married to the leader of the free world and her face might be splashed on glossy magazine covers, but the first lady wanted the kids to focus on her past life: her childhood on the South Side of Chicago. The 6 a.m. city bus rides across town to get to high school. Her student loans. Her struggles to fit in at Princeton, which felt like "landing on another planet."
Sure, she had an agenda — promote the president's "North Star" plan, a quest to return the United States to the dominance the country enjoyed a generation ago from a dismal 12th place in the percentage of people with college degrees — but the tenth graders before her weren't paying attention to that. And that's exactly what she wanted.
Many of the students are minorities. A tentative show of hands during Education Secretary Arne Duncan's opening remarks indicated that many students are working to become the first in their family to attend college. Some of the students come from poverty, and many see more drugs and violence than SAT prep courses.
But, Obama told her rapt audience, "these experiences are not weaknesses."
"It's not your circumstances that define your future," she said. "It's your attitude."
G/O Media may get a commission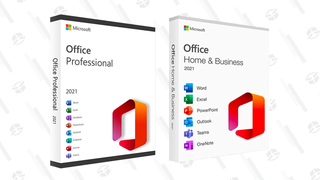 89% off
Microsoft Office Professional 2021 Lifetime License
And the "person with the biggest impact on your education," she said, pausing for effect, "is you."
Her words might sound sappy, but if the utter silence in the auditorium was any indication, the kids believed her.
And that's critical because to regain the lead, the United States needs to get more of its growing minority and low-income student populations to college. But getting those kids on the path to higher education takes more than FAFSA info sessions, it takes them believing in themselves.
While the president has traveled the country talking about the importance of his new plan to make college more affordable, the first lady focused on convincing the students the plan is designed to impact that they can do it, they can go to college.
She drew heavily on her personal experience, a phrase she used multiple times, to convey that message.
Obama said she knows firsthand, that it can be hard for kids "like us" to stop projecting "that internal doubt in our heads."
All too often, that doubt is reinforced, she acknowledged. Teachers say you can't do it. Parents say be realistic.
Don't listen, she implored.
"I want to hear about your dreams," she said. "I want to hear about the things you're worried about."
And as staffers ushered reporters out after a carefully orchestrated Q&A, she settled into her chair to take more questions and hear more concerns.
This reporter didn't hear her precise responses, but the key message, which she delivered during her opening remarks, was clear.
"I want you to know," she said, "that my story can be your story."
Emily DeRuy is a Washington, D.C.-based associate editor, covering education, reproductive rights, and inequality. A San Francisco native, she enjoys Giants baseball and misses Philz terribly.