A Democratic candidate running for Michigan attorney general offered a provocative pitch to voters: A vote for a woman candidate is a vote against some dude who might show you their dick without your consent.
In a campaign video released this week, former Assistant Wayne County Prosecutor Dana Nessel asks:
Who can you trust most not to show you their penis in a professional setting? Is it the candidate who doesn't have a penis? I'd say so.
Nessel's super-liminal message is part of blunt new campaign video which touts her legal background as a prosecutor and a commitment to fighting the wave of sexual harassment allegations that's resulted in the downfall of high profile public men in Hollywood, Washington, and beyond.
"I will not sexually harass my staff and I won't tolerate it in your workplace either. Won't walk around in a half-open bathrobe," Nessel also said. "And I'll continue to take all sex crimes seriously, just like I did as a prosecutor."
The ad, which debuted earlier this week on YouTube, has helped launch Nessel's campaign into the national spotlight. On Twitter, Nessel thanked her new supporters "for your encouragement, high fives & for spreading the word. Even if that word was penis."
G/O Media may get a commission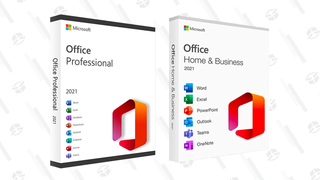 89% off
Microsoft Office Professional 2021 Lifetime License
While Nessel's ad may have drawn attention for the sophomoric shock value of saying the word "penis" on camera—and doesn't acknowledge transgender women—a commitment to cracking down on the Harvey Weinsteins, Matt Lauers, and Donald Trumps of the world by putting women in charge is a laudable solution.
"Yes, I'm a woman," she said in the video. "That's not a liability, that's an asset ...I approve of putting more women on the ticket in November."

If nominated, Nessel—who's best known to most Michigan voters for her work fighting the state's gay marriage ban in 2014—would become the first out member of the LGBTQ community to run for state office on a major party ticket in Michigan.