The attorney for a Michigan man whose videotaped beating and arrest during a traffic stop has drawn outrage says that officers were giving high fives and making fun of the suspect while he was being booked.
"It looks terrible for [the cops]," Floyd Dent's attorney Gregory Rohl told the M Live Media Group. "From what [Dent] remembers about what happened in there, they were doing high-fives and stuff behind him, making fun of him."
The truth about what happened might soon come out. On Wednesday, a Wayne County Circuit Court judge ordered the Inkster Police Department to "make public the booking video, names of officers at the scene, mugshots, evidence photos, dispatch records and reports produced in connection with the arrest," the news service reported.
Dent's attorney expects to have all of the evidence within "48 hours."
The case has been filled with controversies from the get-go, when a video of the traffic stop went viral, showing police choking, punching and tasering Dent repeatedly, while he did not appear to be resisting arrest. Officers claimed Dent threatened to kill them, but all the officers' microphones had been turned off.
G/O Media may get a commission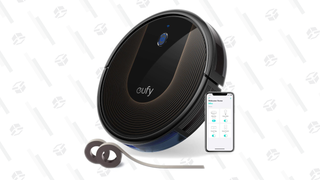 48% Off
Eufy BoostIQ RoboVac
At one point in the video, officer William Melendez, the same officer who was allegedly choking Dent, appears to pull out a baggie of drugs and plant it into the car. Dent was charged with possession of crack cocaine, though he has since passed a drug test and passed a lie detector test, in which he claimed the drugs were not his. The results have been passed along to the Wayne County Prosecutor's Office, which yesterday said it would reevaluate the drug possession charge.
All other charges against Dent, including resisting arrest and assault, have been dropped. Dent, a 57-year old Ford employee, has no criminal history.
The officer who could be seen choking Dent in the video, William Melendez, has a checkered history. Locally known as "Robocop," Melendez has been a party in twelve federal lawsuits over his career, including allegations that he assaulted suspects, and filed false police reports and planted evidence on suspects, reports Detroit Free Press. One case, involving the alleged assault of a man in his home during a drug bust, is still open in the federal courts. The man was never charged with a crime.
Two weeks ago, a U.S. District Judge refused to drop the case against Melendez and other officers, saying there was "sufficient evidence that Melendez's purported actions were objectively unreasonable in light of Acklin's clearly established constitutional rights."
Attorney Rohl estimates between nine to 11 officers were on the scene during Dent's arrest, but claims he has only been able to identify four, and that the Inkster PD is not helping in the process. "They don't want to give up all the names of everyone because they know I'm going to call them on it," he told M Live.
Protesters are regularly gathering in front of the police department, demanding Melendez be fired for Dent's beating.
Inkster police chief Vicki Yost said: "I appreciate everybody's First Amendment rights," adding that the department will "follow the facts and… take the appropriate action" in the ongoing investigation.
Another rally in support of Dent is planned for 10am Friday.
Daniel Rivero is a producer/reporter for Fusion who focuses on police and justice issues. He also skateboards, does a bunch of arts related things on his off time, and likes Cuban coffee.