The titular character of the "Captain Underpants" books is a man who fights crime in his underwear. That's fine, but one of the other characters might be gay, so fire up the outrage machine!
M-Live reports a Michigan school district sent a letter warning families that a character in the most recent installment of the long-running Captain Underpants children's book series, which would be on sale at a school book drive, was implied to be gay.
In the letter home, Rockford Superintendent Michael Shibler tried to walk the line between claiming the school district was open and accepting and warning parents who might find the book offensive.
"At Rockford Public Schools we value every person that steps foot into our buildings," Shibler wrote, according to M-Live. "At the same time we believe that our parents deserve to have the background information related to material that may not align with the values of many families."
Rockford's warning seems mild in comparison with another Michigan school in Monroe, which banned the sale of the book completely last month over the single reference to a character's sexual orientation.
G/O Media may get a commission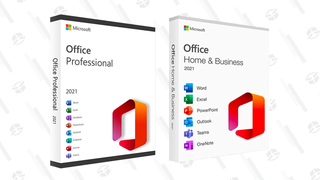 89% off
Microsoft Office Professional 2021 Lifetime License
Spoiler warning for those Captain Underpants fans who haven't read the book yet: the character in question is one of the two 4th grade protagonists of the series, Harold Hutchins. In Captain Underpants and the Sensational Saga of Sir Stinks-A-Lot, Harold travels to the future to find that his adult self has become a successful comic book artist, married with two children. The whole scene sounds like a rather minor plot development; the titular Captain Underpants and Sir Stinks-A-Lot aren't even involved. What's the problem that prompted a letter home?
Well, you see, he's married to another man. Pick yourself up off the fainting couch, we're not done yet.
While the superintendent sent out this letter, he got the idea from the book's publisher, Scholastic, which apparently has been warning schools, including Rockford, about the "controversial" scene in which a character is found to be happily married and raising a family. M-Live reports Shibler included the following statement from Scholastic in his letter.

"Our goal is to encourage all children to learn to love to read in part by making available a wide array of titles for children to choose from. Children all across the country live in families with varied family structures and our authors are moved to portray these families in their books. While the author gives us a glimpse of Harold's future and his partner, this is not the focus of the story. Rather it is about Harold as he is in school at the present. Of course, at Scholastic we recognize that not every book is for every young person. Therefore, we encourage families and teachers to take an active interest in their children's reading choices so that a child will not select a book that is contrary to her or his family or community values."
It seems a bit silly to get so worried over a minor scene with a wholesome message in an extremely popular children's book series, but all you have to do is take a look at the book's 1 star Amazon reviews (19 percent of all reviews) to find the hand-wringing parents Shibler and Scholastic are worried about.
As far as "cowardly sniper attacks" go, this one seems pretty harmless.