At a Congressional hearing on the Flint water crisis this morning, things got heated.
The biggest fireworks came in a line of questioning by Pennsylvania Congressman Matt Cartwright, a Democrat, who excoriated Michigan Gov. Rick Snyder for failing to act, even after seeing numerous headlines about health problems in the city. Flint residents saw their drinking water poisoned with lead in part because state officials failed to conduct required testing.
"Even after the whole world knew that Flint residents were exposed to unimaginable levels of lead, you did not declare an emergency," Cartwright said.
The governor started to reply, talking about issuing water filters to residents and conducting blood testing. But Cartwright interrupted him.
"Governor Snyder, plausible deniability only works when it's deniable, and I'm not buying that you didn't know about any of this until October 2015," Cartwright said. "You were not in a medically-induced coma for a year and I've had about enough of your false contrition and your phony apologies."
G/O Media may get a commission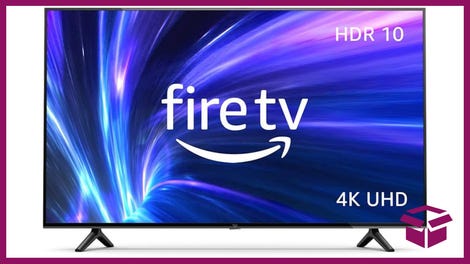 42% Off
Amazon Fire TV 50" 4K Smart TV
Snyder looked on with a small smile as Cartwright launched further into his speech. "There you are dripping with guilt but drawing your paycheck, hiring lawyers at the expense of the people and doing your dead-level best to spread accountability to others," he said.
"Pretty soon we will have men who strike their wives saying, 'I'm sorry dear but there were failures at all levels,'" Cartwright said. (At this point, the chamber echoed with gasps from the audience.) "People who put dollars over the fundamental safety of the people do not belong in government, and you need to resign," he concluded.
It was a bit of political theater, but one that will likely resonate with many Flint residents, who are disgusted with the governor and his administration.
Overall, the hearing saw Republican members of Congress asking tougher questions to Environmental Protection Agency head Gina McCarthy, who was sitting next to Snyder, while Democrats directed their ire at the Republican governor. Emails show that EPA officials were also aware of the water problems in the city months before they became public and failed to act.
Several members pointed out that the EPA should have stepped in sooner. "Why do we even need an EPA" if officials didn't enforce laws requiring testing of the water, wondered Republican Rep. Jason Chaffetz of Utah, the committee's chair. McCarthy said she had "regrets" but said her agency wasn't directly responsible for the crisis.
Snyder appeared contrite but said he thought the EPA deserved blame as well as the state government. "I'm always going to kick myself that our people should have spoken up," he said. "I should have asked tougher questions. I should have done more."
Casey Tolan is a National News Reporter for Fusion based in New York City.