Progressives in Michigan scored a hard-fought victory today when it was announced that a proposal to create an independent redistricting commission will be on the ballot this November, according to a report from The Detroit News.

The state's district boundaries were last redrawn by Republicans in 2011. Since then Republicans have maintained control of congressional offices, with a supermajority in the state senate, despite a narrowly divided electorate. The state was won by Donald Trump in the 2016 presidential election by less than a quarter of a percentage point.
In a 4-3 decision, the Michigan Supreme Court decided to allow the measure on the ballot. A campaign for the initiative gathered 400,000 signatures in support, while a group funded by the Michigan Chamber of Commerce pushed back on the proposal, arguing that it was too expansive to be passed by an amendment to the state constitution. They and other opponents believed the change should only be initiated through a constitutional convention.
Recently, evidence has come out that reveals alleged political bias on the part of the Republicans who drew the districts in 2011, The Detroit News writes:
Republicans who drew the current boundaries have publicly denied any overt bias and say existing laws already limit manipulation. But recently revealed emails between map makers that were disclosed as part of a separate federal lawsuit point to political calculus.

"We've spent a lot of time providing options to ensure we have a solid 9-5 delegation in 2012 and beyond," then-Michigan Chamber legal counsel Bob LaBrant told a legislative aide in 2011, referencing the congressional majority Michigan Republicans now enjoy.

Other emails showed GOP aides suggesting ways to contain "Dem garbage" to four congressional districts in southeast Michigan and joked about how one district could be shaped to give "the finger" to a Democratic congressman.
G/O Media may get a commission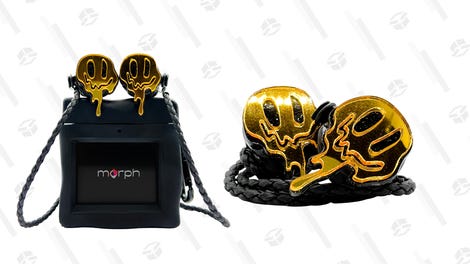 morph audio
Morph Earphones
Doesn't sound great!
If the proposition is passed, it's possible that Michigan will be more likely to swing blue in the 2020 election. That would definitely help clear an electoral path to victory for a challenger to Donald Trump.