Undocumented children in the care of MVM Inc., a federal contractor tasked with providing "assistance in emergency shelter operations for unaccompanied children" which has a history of jaw-dropping fuck-ups, reportedly bathed themselves and washed their clothes in sinks in one Phoenix facility.

Reveal's Aura Bogado reports that MVM has operated at least two facilities in the city, which she characterizes as being a "nondescript, unmarked one-level office with dark tinted windows." The second, which is the subject of this story, is located on 20th Street in Phoenix, is reportedly surrounded by a parking lot, and located near the airport.
Per Reveal:
Bill Weaver, an insurance executive who used to lease the 20th Street space now occupied by MVM, told Reveal that for the past two years, he's seen children from babies to teenagers come through the office.

[...]
Weaver estimates MVM leases about 2,000 square feet of space in the building. He said that the space has no kitchen or shower but that the property's owner offered to install showers at some point.


It also has no private bathroom. Instead, Weaver said, three office suites share a set of bathroom stalls and sinks. To bathe, he said, the children would use a pair of bathroom sinks. He said he's seen it on multiple occasions.


"One time, I walked in and saw two kids washing themselves in their underwear in the sinks," Weaver said. "MVM would throw away all their clothes and even throw away the brush they combed their hair with and then reclothe them in sweatsuits and Crocs."
Weaver shot videos of the kids on June 11, which Reveal says shows "about 20 boys of various ages," but told the website that he's been seeing children ranging in age from babies to teenagers at the office since 2016. On June 5, Reveal reports, police responded to a call that a girl had passed out there.
Incredibly, however, the company has no licensed child care centers in the state of Arizona. Last week, the company canceled its lease at its other Phoenix location, on Osborn Road, after Reveal reported that the company had broken its own policies and its contract with ICE by holding children there overnight. Reveal also reported that a 17-year old from Honduras went missing from that facility in late May; he has yet to be found, according to Phoenix police.
G/O Media may get a commission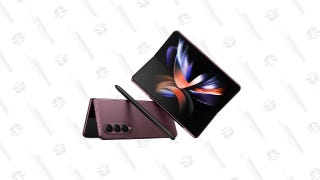 Save Up to $300
Galaxy Z Fold4
After Bogado published her story today, she tweeted that the space on 20th St. had been rapidly vacated.
According to Reveal, however, ICE has yet to admit that MVM has detained children overnight, and an HHS/ICE document dated July 14 said that the company would assist in the reunification of children with their families this week.