It must be hell to play second fiddle to a flamboyant and vulgar ignoramus like the president of the United States of America, but that is exactly what Vice President Mike Pence, husband/son of Karen Pence, signed up for. Yet while Pence has been seemingly content as the Iago to Donald Trump's Jafar, he's apparently been putting some of his own ambitions into action, to the chagrin of the president's people.
According to the New York Times, Pence has been taking advantage of the vacuum Trump has left in actual Republican politicking (in favor of impulsively tweeting), and Trump's team has taken notice:
Republican officials now see Mr. Pence as seeking to exercise expansive control over a political party ostensibly helmed by Mr. Trump, tending to his own allies and interests even when the president's instincts lean in another direction. Even as he laces his public remarks with praise for the president, Mr. Pence and his influential chief of staff, Nick Ayers, are unsettling a group of Mr. Trump's fierce loyalists who fear they are forging a separate power base.
Among Pence's suspicious actions: a failed attempt to hire a Republican pollster who advised on anti-Trump ads during the election; actually hiring a man named William Kirkland, who is expected to run Pence's shadow campaign, out from under Trump; Nick Ayers allegedly telling "associates" that Pence's office will intervene if the president's office can't get its shit together; and Ayers and other Pence aides literally talking about Pence's preparedness to run for president in 2020—you know, just if Trump didn't want to, like, run himself or anything.
Obviously, Trump's team isn't too happy about this. Even Lindsey Graham has noticed that Trump's people are miffed at Pence's personal projects:
"They're looking for people to stay on the team, not break away from the team," said Senator Lindsey Graham, Republican of South Carolina, of the Trump side of the West Wing.
G/O Media may get a commission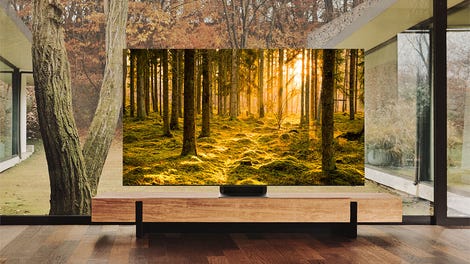 Up to 40% off
Samsung Smart TVs
For his part, Pence has been doubling down on his various gestures of loyalty to the president, from his many tweets effusively exalting "@POTUS" to the way he sings his praises at speaking engagements.
And his spokesperson, Alyssa Farah, insisted to the Times that Pence's extremely busy schedule, strengthening relationship with party donors, habit of dissuading Trump from "meddling" in congressional races, and amassing what feels like a distinct political power base is totally part of Trump's plan!
"The vice president's political and fund-raising travel advances the president's agenda by aiding targeted candidates and committees during the midterms, which is what the president asked us to do," Ms. Farah said. "Our team works hand-in-hand with our colleagues and have tremendous respect for the work they do."

Ms. Farah denied that Mr. Ayers had made comments about displacing the White House political office. "Nick has never said anything of the sort," she said. She also said Mr. Ayers had not described Mr. Pence as being publicly ingratiating to prove his loyalty: "This is false."
The lady doth protest too much, methinks.