Miley Cyrus was an awful VMA host—she was an obnoxious, minimally funny weed spokeswoman who dared to disrespect Nicki Minaj (???). But her strategically tacky  outfits did remind me of something: my childhood. Watching the award show last night, I suddenly remembered all of my technicolor Lisa Frank Trapper Keepers and my obsessive desire to befriend Zenon and Nebula from the Disney Channel Original Movie Zenon: Girl of the 21st Century. I also wondered, in retrospect, whether the creators of Nickelodeon's Aaahh!!! Real Monsters were as high as Miley claimed to be.
The singer's many wardrobe changes saw her decked out in rainbow costume jewelry, metallics, sparkles and latex, as well as a few things I didn't know existed until yesterday, like fake dread ponytails, flower jackets, and inflatable dresses.
While her performance as host didn't quite have the same shock effect as her 2013 VMA twerking session with Robin Thicke, Miley Cyrus' outfits definitely stood out as something to be remembered—thanks in part to all the '90s pop culture her looks reminded us of.

A Lisa Frank cat.
G/O Media may get a commission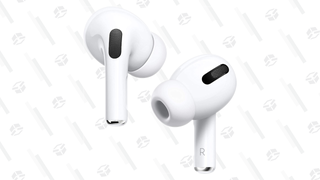 28% Off
Apple AirPods Pro Wireless Earbuds
The Zenon: The Zequel movie poster.
A Lisa Frank pig.
Oblina from Aaahh!!! Real Monsters. 
Actually, the whole cast of Aaahh!!! Real Monsters.
A Lisa Frank unicorn jumping over the moon. 
Zenon at a concert.
A Lisa Frank narwhal.
A Lisa Frank painting panda.
Zenon in pink.
A Lisa Frank horse.
Nebula's hair.
A Lisa Frank dolphin.
A Lisa Frank ~fashion~ sticker compilation.
Tahirah Hairston is a style writer from Detroit who likes Susan Miller, Rihanna's friend's Instagram accounts, ramen and ugly-but cute shoes.