Millennials are the most stressed-out generation in America, according to a new survey from the American Psychological Association (APA).
The group's annual Stress in America report found that millennials, which they defined as individuals aged 18-35, reported an average stress level of 5.5, compared with 5.4 for Gen X, 4.5 for Baby Boomers and 3.5 for "matures."
Millennials also lead the country in the following stress categories:
— Stress increased in the past year (36 percent)
— Felt a sense of of loneliness or isolation due to stress (34 percent)
— Skipped a meal because of stress (34 percent)
Within the millennial category, there was a key difference: those with what the APA calls "low money stress" — people who rated their financial straits as 1, 2 or 3 on a 10-point scale — don't have to rely on stress management techniques as much as millennials with "high money stress."
G/O Media may get a commission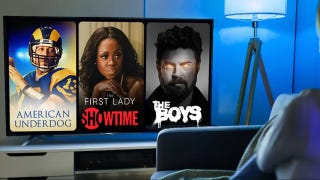 UNDER $1
99¢ Prime Video Channels
The largest gap between these two groups comes from those who smoke and those who don't — just 3 percent of young adults with low money stress do so, compared with 21 percent of millennials with high money stress.
Those results may speak to the consequences of Fusion's new report showing that income gaps are wider among this generation of younger adults than previous ones.
In general, younger people tend to be more stressed out than older people. But in the APA's 2007 version of its study, the youngest Americans were less stressed out than middle aged ones by at least two measures: Feeling high levels of stress…
And number of high-stress days.
Dr. Lynn Bufka of the APA said the sluggish economy may have increased millennials' stress levels compared with previous generations of young people. This would be especially true for older millennials, she said, who graduated into a dismal job market.
The APA interviewed 3,068 adults ages 18 and older, 720 of whom were millennials.
Rob covers business, economics and the environment for Fusion. He previously worked at Business Insider. He grew up in Chicago.