Who are young people's dream dinner guests? President Barack Obama, Oprah Winfrey, and Beyoncé Knowles.
Fusion's Massive Millennial Poll — which surveyed 1000 people aged 18-34 about everything from politics to dating to race issues — included the question "What public figure or celebrity would you most like to have over for dinner?" It was an open-ended question (which might explain how the very dead Ronald Reagan and Abraham Lincoln got on there) but the top three choices were all African-American, and two of them were women. (For full results and methodology, click here.)
It's significant that the three people at the top of the list are African-American, since it falls in line with the idea that millennials are the most racially and ethnically diverse cohort in our country's history while also being the most politically progressive.
As the numbers show, President Obama shot ahead of everyone with 11% of the vote. It's interesting that young people would rather hang with the leader of the free world than anyone else since millennials are usually painted as politically apathetic at best and completely oblivious at worst, but maybe not so strange considering that Obama won 60 percent of the youth vote in the 2012 election. His campaign's use of Facebook and social media to attract and motivate young voters might seem like a no-brainer in retrospect, but was a key component in his election.
G/O Media may get a commission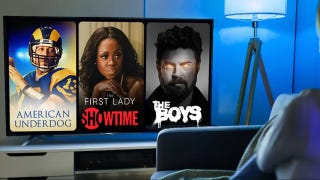 UNDER $1
99¢ Prime Video Channels
Oprah Winfrey is an interesting choice for a millennial dining companion; the media mogul has had a long and interesting career, but millennials are not exactly Oprah's targeted demographic. Still, young people did grow up watching her on TV, and are probably more familiar with her brand of low-key talk therapy than their parents. She's also very aspirational; her magazine, TV network, and acting career neatly encapsulate what it means to be a thoughtful but financially dominant brand for a generation raised on the power of personal brands.
Speaking of personal brands, Beyoncé is easily the world's biggest superstar — but somehow only got 2% of the vote. We think this business powerhouse with a new focus on feminism would be a fascinating dinner guest, but she might have ranked higher had she launched her new plan to bring veganism to the entire world a little bit sooner.
In the end, 22% of the millennials questioned either didn't know who they wanted to have dinner with, couldn't decide, or just flat-out refused to answer. You can't blame 'em—sometimes dinner just means binge-watching Netflix with a pizza for a party of one.
Fusion's Massive Millennial Poll surveyed 1,000 people between the ages of 18 to 34, with a general population sample and an overall margin of error of plus-minus 3.1 percentage points. The interviews were conducted via telephone from Jan. 6 to Jan. 11. For more on our methodology and poll results, click here.
Danielle Henderson is a lapsed academic, heavy metal karaoke machine, and culture editor at Fusion. She enjoys thinking about how race, gender, and sexuality shape our cultural narratives, but not in a boring way.