What do you do when you're a multimillionaire televangelist with a church that seats more than 16,000 people during the worst natural disaster to batter your community in recent history? Tweet your sincerest thoughts and keep those pearly megachurch doors locked, of course!

Joel Osteen, a Houston-based celebrity pastor whose hackneyed smile is reminiscent of every used car salesman to be portrayed in film, proved today that words are meaningless when you don't put your money where your mouth is.

After Osteen tweeted out his prayers for "everyone affected by Hurricane Harvey" to 6 million people, a majority of responses to his tweet could be summarized in one sentence: What about that megachurch?

Osteen's Lakewood Church, an arena formerly occupied by the Houston Rockets, houses 16,000 people — making it an ideal shelter for the some 30,000 people Hurricane Harvey has displaced. According to Lakewood Church's Facebook, the grounds are inaccessible and flooded.

G/O Media may get a commission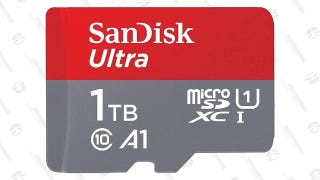 Save $75
SanDisk Ultra 1TB MicroSDXC Card
Twitter users who either live in the Houston, TX, neighborhood where Lakewood Church is located or have ventured to its location begged to differ:
As you can clearly see, the area surrounding Lakewood seems to be accessible by car. There are a few suspect reports that the church's parking garage is flooded, but unless Houston's riverlike roads drain overnight, I doubt anyone needing shelter will require parking for the car that they can't drive. Just as you would expect, Osteen has apparently blocked several users who have called his bluff that Lakewood is "inaccessible due to severe flooding."

On the off chance that Lakewood Church is indeed so flooded that it can't house any of Houston's displaced, I have some other questions for Osteen: Why not turn your $10 million mansion into a temporary shelter? Not enough room? What about your second multimillion dollar home in Houston? Perhaps you could assist your fellow messenger of God, an unidentified Houston area pastor, who spent his weekend checking submerged cars for people in need of rescue? Just prayers and a donation link? Okay.

Update, Monday, 8:53 PM: After encountering a fair amount of online criticism, Lakewood Church appears to be opening its doors to displaced people in Houston after all. A statement obtained by Mediaite said the church was "prepared to house people once shelters reach capacity."