A groundbreaking new study conducted by the Washington Post found that millions of children were subjected to some form of school lockdown over the past year—a sign that the epidemic of gun violence in schools has created its own secondary crisis affecting the way America's children spend their time in the classroom.

According to the Post, school lockdowns affected more than four million children during the 2017-2018 school year. And while the Post notes that school lockdowns can be an effective emergency procedure during (relatively rare) actual incidents of violence, they "can inflict immense psychological damage on children convinced that they're in danger" in other cases.

Some key takeaways from the Post's study include:
On any given day, there are 16 school lockdowns across the country.

Nine of those lockdowns are "related to gun violence or the threat of it"

There was a gun-related school lockdown every single day between Labor and Memorial days last year.
One million students affected by the lockdowns were in elementary school.
220,000 were in kindergarten or pre-K.
The days with the highest number of lockdowns occurred immediately after the February, 14 shooting at Florida's Marjory Stoneman Douglas High School.
As the Post notes, 2018 also set records for school shootings itself, with more than 25,000 students exposed to gun violence in schools during the year. But beyond the horrific numbers is the very real psychological effects these school lockdowns can have on students.
"We have very good data that children in proximity to frightening circumstances, such as those that trigger school lockdowns, are at risk for lasting symptoms. These include everything from worsening academic and social progression to depression, anxiety, poor sleep, post-traumatic symptomatology and substance abuse," Harvard Medical School assistant professor and child psychiatrist Steven Schlozman told the Post. "Given the potential scope of the problem, we are in dire need of more information. How do we protect children from these issues?"
G/O Media may get a commission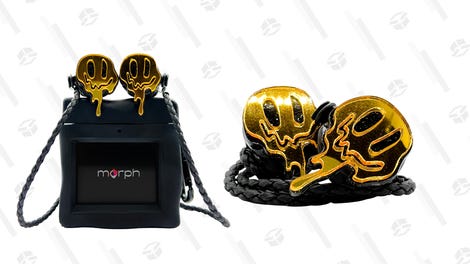 morph audio
Morph Earphones
In some places the lockdown epidemic has become an almost perverse parody of normalcy. In Somerville, MA, kindergartners learn to chant "Lockdown, lockdown, Lock the door / Shut the lights off, Say no more" to the tune of "Twinkle Twinkle Little Star" to learn about proper safety procedure.
Questions regarding the potentially devastating effect of lockdowns on children's psyches have even reached the White House, where 13-year-old Benje Choucroun shared his lockdown experience with Trump Administration Press Secretary Sarah Huckabee Sanders in May.
"At my school we recently had a lockdown drill. One thing that affects my and other students mental health is the worry about the fact that we or our friends could get shot at school," Choucroun said during a White House press briefing, where he was "on assignment" for Time Magazine for Kids. "Specifically, can you tell me what the administration has done and will do to prevent these senseless tragedies?"
With tears in her eyes, Sanders couldn't offer more than a non-answer-answer about "the best ways forward and how we can do every single thing within our power to protect kids in our schools."
To make matters worse, the already staggering numbers cited by the Post's study may end up being much higher than reported. While the paper stated that the information for its study came from "20,000 news stories and data from school districts in 31 of the country's largest cities," it also noted that "many school districts — including in Detroit and Chicago — do not track [lockdowns] and hundreds never make the news, particularly when they happen at urban schools attended primarily by children of color."