A black Mississippi man who had been missing for over two weeks was found hanging from a tree on Thursday, authorities say.
Claiborne County Coroner J.W. Mallett has not disclosed details of the case, and it is not yet clear if the death was from a homicide or a suicide, the Clarion Ledger reported. The FBI, the Justice Department's Civil Rights Division and the United States Attorney's office are investigating the case.
"This is the first time I have witnessed anything like this in Claiborne County," Claiborne County Sheriff Marvin Lucas told WAPT.
The case has sparked speculation that it could have been a lynching, the last of which took place as recently as 2011 in Mississippi, a state with a troubled history of racial violence. The sentencing judge in that case told the three men who were sentenced last month in that case that they had "ripped off the scab of the healing scars of Mississippi…causing her to bleed again."
G/O Media may get a commission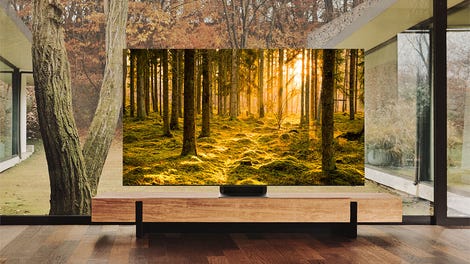 Up to 40% off
Samsung Smart TVs
The man found on Thursday, believed to be Otis Byrd, 54, was last seen on March 2, when a friend dropped him off at a casino. Local law enforcement found him hanging in the woods while on a search for him, after his family filed a missing persons report on March 8. The FBI has not confirmed the victim's name, but the local NAACP chapter released the information.
He was found with a bed sheet tied around his neck and a beanie on his head, reported CNN. His hands were not tied up. The method of hanging is common in prisons, suggesting that it could potentially have been a suicide, as Byrd previously served over 25 years in prison for a 1980 murder, according to the Mississippi Department of Corrections.
"It 's too early to say what happened and speculate," said FBI Supervisory Special Agent Jason Pack. "We don't know what happened out there, if it is a suicide, a homicide, that is why we investigate these types of cases to determine exactly what happened."
Mississippi's NAACP is calling for a full investigation into the incident.
"We are calling on federal authorities to immediately investigate the hanging death of Mr. Otis Byrd to determine whether or not his death is the result of a hate crime," Derrick Johnson, President, NAACP Mississippi State Conference, said in a statement.
UPDATE: Federal investigators announced on May 29 that they had not found any evidence that Otis Byrd's death was the result of homicide. The Justice Department has not declared the hanging death a suicide, but a release from the agency strongly suggests it, the Associated Press says.
Daniel Rivero is a producer/reporter for Fusion who focuses on police and justice issues. He also skateboards, does a bunch of arts related things on his off time, and likes Cuban coffee.