On Monday, more than 150 Missouri students protested their transgender classmate's use of the women's locker room, the St. Louis Post-Dispatch reports.
Hillsboro High School students staged the walk out, which lasted a couple of hours, in protest of Lila Perry using women's facilities at the school since the academic year started a few weeks ago. The senior came out as transgender last year, and was using unisex faculty restrooms until now. Perry remained in the principal's locked office during the protest—for her safety, school officials told the paper—while a smaller group of students staged a counter-protest in her defense.
Those protesting Perry's access to women's facilities say Perry should keep her identity to herself. One former student, Britney Heimos, told the Post-Dispatch, "I'm not comfortable with it… There is nothing wrong with being different. But when you are different, there are sacrifices." Jeff Childs, whose niece and nephew attend an elementary school in Hillsboro, came to the high school holding a "Girl's Right's Matter" sign. "This needs to stop before it goes too far," Childs told the Post-Dispatch, adding,"I'm not trying to be ignorant, but [Perry] is bringing it out in public for everybody else to deal with."
Perry isn't buying it. She told KMOV:

There's a lot of ignorance, they are claiming that they're uncomfortable. I don't believe for a second that they are. I think this is pure and simple bigotry.
G/O Media may get a commission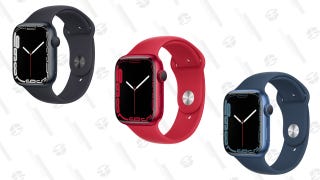 Up To $45 Off
Apple Watch Series 7
But Perry said she feels supported by the school, and her friends see no reason to protest. Gianna Warfel told the Post-Dispatch, "I don't know what there is to discriminate about that. I really support the bravery she has." And words of support have been posted to an "I stand with Lila Perry" Facebook page.
The walkout followed Thursday's heated school board meeting, where a policy banning Perry from women's restrooms was raised. Local Fox affiliate KTVI described the scene:

Derrick Good, a parent of two girls at Hillsboro and an attorney, worked with other parents and a conservative advocacy group to draft a new school district policy on the issue, which he believes would be upheld in court. The policy calls for students to use a restroom associated with the gender they were born with, or a gender neutral restroom.
School superintendent Aaron D. Cornman gave the Post-Dispatch a written statement saying that "we will promote tolerance and acceptance of all students that attend our district while not tolerating bullying/harassing behaviors of any type in any form."
Danielle Wiener-Bronner is a news reporter.