Missouri Republicans killed a 39-hour filibuster Wednesday to advance a bill designed to protect business owners' religious views but which critics say legalizes discrimination against queer people.
To do so, Republicans had to deploy a little-used procedural maneuver that the Kansas City Star says will likely result in massive retribution from Democrats.
The bill would prohibit government penalties against those who cite "a sincere religious belief" in declining to provide goods or services of "expressional or artistic creation" for same-sex ceremonies or celebrations, The Associated Press reported. The measure comes as bakers and florists have faced legal challenges in other states for declining to provide services for same-sex weddings. The Washington State Supreme Court has just agreed to hear a case involving a florist who was found guilty of violating state laws and the constitutional rights of a gay couple when she refused to arrange flowers for their wedding.
Earlier, The AP reported that Democrats were ready to continue stalling by any means necessary, including by "leading discussions on 'Star Wars' trivia."
But Wednesday morning, Republicans utilized a procedure called "moving the previous question" that allowed a simple majority vote to end the filibuster, the Star reported. But the bill must be approved by the Senate one more time before going to the Missouri House, and the last time the "previous question" move was used, Democrats shut the Senate down.
G/O Media may get a commission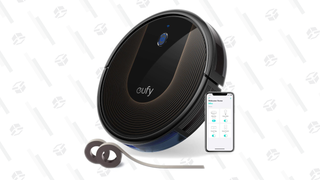 48% Off
Eufy BoostIQ RoboVac
Rob covers business, economics and the environment for Fusion. He previously worked at Business Insider. He grew up in Chicago.