UPDATE: Missouri governor Eric Greitens has stayed the execution. See below for more details.
The state of Missouri is preparing to kill Marcellus Williams via lethal injection tonight, despite new DNA evidence that his lawyers argue proves his innocence.

The 48-year-old Williams was convicted in 2001 of murdering Lisha Gayle by an a jury of 11 white people and one black person in St. Louis. According to Al Jazeera, the prosecution's case during Williams' trial didn't put forth any forensic evidence or eyewitnesses linking Williams to Gayle's stabbing. Instead, prosecutors largely relied on the testimony of two witnesses: a man with whom Williams shared a cell once he had been taken in for questioning for the murder, and his then-girlfriend.

But the Missouri State Supreme Court has denied a request made by Williams' lawyer, Kent Gipson, to review the new evidence. Gipson told Al Jazeera that the court's decision was "baffling:"
The Missouri Supreme Court denied our petition barely 24 hours after filing it, with no hearing at all. Listening to what experts have to say about new evidence is particularly important in a case like this with scientific evidence. It is frightening that someone can have exonerating DNA evidence and a court would turn a blind eye to it."
G/O Media may get a commission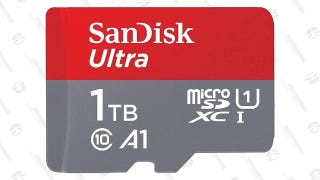 Save $75
SanDisk Ultra 1TB MicroSDXC Card
According to Gipson, the recent test results show that male DNA found on the knife used to kill Gayle in 1998 didn't belong to Williams, but to a third, unidentified person. A forensic DNA expert hired by Williams' defense also told CNN that hair samples found at the scene also didn't match Williams' DNA, and a bloody footprint didn't match Williams' shoes.
Evidence also seems to contradict the testimony of Laura Asaro, Williams' then-girlfriend. Al Jazeera reports that Asaro had testified that scratches found on Williams' neck were caused by Gayle, presumably as she struggled to defend herself. But no traces of Williams' DNA were ever found on Gayle's fingernails.
Williams' exoneration, should it come, now rests in the hands of the U.S. Supreme Court and newly elected Missouri governor, Eric Greitens, a Republican. High-profile anti-death penalty advocates like Amnesty International and Sister Helen Prejean, a Roman Catholic nun whose story was featured in the movie Dead Man Walking, have lobbied for Williams to be granted clemency.

Unless the Supreme Court or Greitens intervenes, Williams will be executed tonight at 7 PM, Eastern Time. One of Williams' lawyers told CNN that his client, a devout Muslim, has accepted that whatever happens will be "Allah's will." Williams' son, Marcellus Williams II, also told the cable news work on Monday night that his father is "at peace."
"I think tomorrow he's going to be murdered," added Williams II. "He (is) an innocent man, and that's not right."
Update, 3:05 PM: Missouri Gov. Eric Greitens announced that he had stayed Williams' execution, and was appointing a special board to examine the case and consider Williams' request for clemency.
CORRECTION: This post initially stated that Williams was convicted by an all-white jury. In fact, the jury was made up of 11 white people and one black person.