Note: This story contains some offensive language.
Hours after Tim Wolfe was forced to resign as president of The University of Missouri on Monday night, a young man walked by the tent city where students had been gathering to protest the rampant racism they see around the campus.
"White power!" the young man yelled.
One of the protesters' "white allies" ran after the culprit to start a dialogue with him, said Ayanna Poole, a Mizzou student and a member of the core group of protesters known as the Original 11. "That's how to be an ally," Poole said, laughing warmly. The young man was never found.
"There's still work to be done, " said Poole.
Now, a day after Wolfe stepped down, tensions around campus are still high. But the Original 11, who had been refusing to talk to the press, have since had a change of heart.
G/O Media may get a commission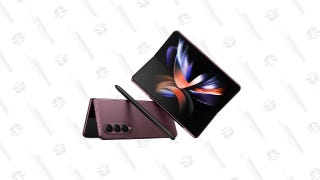 Save Up to $300
Galaxy Z Fold4
Earlier on Tuesday, reporters were warned with signs that student protesters had no interest in talking to the media. One professor, Melissa Click, gained negative attention when she was caught on camera asking for some "muscle" to help remove a reporter from the tent city.
"We're learning as we go along," said Reuben Faloughi, another of the Original 11. "We have to follow the law," he continued. "But we're students. We're learning."
Faloughi, a tall and smiley third-year doctoral student, was walking the perimeter of the campus quad on Tuesday affectionately greeting reporters and students and handing out sheets of paper that contained three pieces of information: "1. Media has a 1st amendment right to occupy campsite," and "2. The media is important to tell our story and experiences at Mizzou to the world" and "3. Let's welcome and thank them!"
What Poole perceives as Mizzou's racist culture is driving her to continue protesting and organizing even after Wolfe's departure.
"African Americans can't walk down [off-campus fraternity] streets without being called racial slurs," she said. "Women can't walk down those streets without being called bitches and whores," she continued. "And that's sad, that's very sad."
Poole remembers her first experience with Mizzou campus racism to me, an event that occurred during her freshman year. She was walking into a frat house with a friend, who Poole remembers was a little drunk. "And [a partygoer] actually told us 'leave nigger bitches,'" she recalled.
According to Poole, the protesters' next demand is getting Mizzou's administration to employ a "shared governance," where students get to be a voice in decision-making processes. "Our next system's president should be not only be appointed by the board of curators," said Poole. "But also administration, faculty, staff, and students should have a say in the person who is going to service them and the student in the future," she continued. "We do work inside of a democracy, right?"
The University's provost on Tuesday tapped Chuck Henson, Associate Dean for Academic Affairs and Trial Practice in the University's School of Law as the Interim Vice Chancellor for Inclusion, Diversity and Equity.
"We're not angry," Poole told me. "We're just very passionate."
Collier Meyerson is a reporter at Fusion with a focus on race and politics. She lives in Brooklyn.