Editor's note: This post contains one instance of offensive language.
He shook his head sullenly, his baby face suddenly drawn. "So this is the city I described as a utopia," Charles Menifield said of Columbia, where he is professor and associate dean for academic programs at the University of Missouri.
Menifield, who was a doctoral student at Mizzou in 1992, had a markedly different experience than the student protesters who camped out on one of the university's quads. "Coming here and seeing such harmony, black people and white people together, it was astonishing," he told me of his time as a student. "It was arguably the best four years of my life."
When Menifield had the opportunity to come back to Columbia to teach, he jumped at the chance. "I had lots of friends, the economy was great, unemployment was low," he said. "The public school system is great. It's a great place to raise a family."
But once his family arrived in 2013, everything changed. Menifield's daughter, who currently attends Mizzou, was called a "nigger" by a white student on campus about a month ago, he said. His students, too, have lately been on the receiving end of racist epithets and comments.
G/O Media may get a commission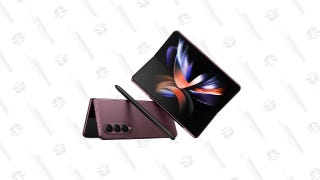 Save Up to $300
Galaxy Z Fold4
Mizzou inspired a string of protests at colleges and universities across the nation last week after a group of students there erected a tent city on campus to protest on-campus racism. Demonstrations addressing individual acts of racism have popped up at Ithaca College, Yale, Smith, Ohio State University, and the University of South Carolina, among others. So far Mizzou is the only campus to oust its president.
The name of Mizzou's protest group, #ConcernedStudent1950, is a nod to the first year Mizzou enrolled black students. Among them was Gus T. Ridgel, a graduate student studying economics. Sadly, some Mizzou students' experience at the university sounds more like Ridgel's in the 60s than Menifield's in the 90s
When Ridgel, who is now 89, first started at Mizzou, he lived alone in a dorm room made for two people, even though the school was overcrowded that year. No white student wanted to be his roommate, he said in an interview with the New York Times.
The school later set up a fellowship for black graduate students in Ridgel's name, and Professor Menifield was one of the lucky recipients. He got a chance to meet Ridgel and talk to him. "It takes a special kind of person to be able to endure that kind of thing," said Menifield of Ridgel. "I don't know if I could do it."
Menifield recounted Ridgel's stories of racial adversity. "A professor over in the economics department doubted his abilities in all sorts of ways," he said. "He finished the program in record time and blew them out of the water."
Sixty-five years later, Ashley Price, a Ridgel fellow and current graduate student at the Truman School of Public Affairs, echoes the namesake of her fellowship. "There was a presumption that as a student of color my academic prowess wasn't like white students," said Price, who is originally from Kansas City, Missouri.
"There are certain teachers who either don't expect you to do well, or think you'll have problems in the course because of your race," said Price. It's precisely these experiences the third-year grad student is concerned with. Price started a group with other students, in the midst of campus protests, called MU Policy Now. Its aim, she said, is to move away from calling attention to individual acts of racism and concentrate on the university's more entrenched issues of discrimination.
"We wanted to focus on development and implementation of policy," said Price. "We have quite a bit of work to do at the administrative level in order to make sure that people interacting with students of color are educated about their own privilege and biases," she said. "Those experiences were more troubling to me than being called the n-word."
Yet Price, like the majority of black students I spoke with on Mizzou's campus, remembers vividly the individual acts of racism she experienced. "I was called a nigger three times in undergrad by white people," she said. "I hadn't been called that since third grade," she continued. "And when I was out at parties with friends there would be racially charged arguments and incidents."
The black faculty at Mizzou signed a letter standing in solidarity with the student protesters, said Menifield. Both Menifield and Price expressed wanting to see the university devote more resources and time to improving enrollment and retention rates for students of color.
"Right now the eruption is over," said Menifield. "I hope the eruption is over," he said, unsure. "But now I wonder if something if something else is coming."
Collier Meyerson is a reporter at Fusion with a focus on race and politics. She lives in Brooklyn.