The Daily Mail Australia calls them "instafamous." Vogue, among other publications, describes them as "Instagirls," a portmanteau for the gaggle of millennial modeling darlings (Kylie! Gigi! Cara! Joan! Karlie!) enjoying meteoric success due to their shrewd mastery of fashion runways and social media — posing a dizzying array of glamorous snapshots, often in far-flung international locales. And although some modeling agencies are reportedly going so far as to review girls' IG, Twitter, and Snapchat accounts to portend a would-be model's star quality altogether, a popular social media presence doesn't necessarily translate into high profile ad campaigns and, later, cold hard cash.
As Vivien's Models general manager Catherine McGill tells the Daily Mail Australia, a demand from clients for social media-friendly models spurred the development of the agency's "influencer" department. "Our bookers were giving me feedback that clients wanted models who might be blonde, beachy and had a high social media following," she explains. "Now when we're booking talent, in negotiation process, we talk about the girls numbers."
Other reports, such as one in May's Financial Times, claim that advertising clients are beginning to rely on models with 10,000 to 300,000 Instagram followers to help bring "hard and fast brand promotion." Acting as "brand ambassadors," Instagirls announce, share and promote products with their existing audiences, allowing brands to connect with potential new consumers. "Looks are obviously still first and foremost, but if you have two girls who are both perfect for something, without a shadow of a doubt the one with the bigger social following would win the job," Sarah Doukas of Storm Modeling Agency told British Vogue. Doukas' reasoning is perhaps why Estée Lauder signed 19-year-old Kendall Jenner this spring, the storied cosmetic company leveraging "her image, voice, energy and extraordinary social media power" to a younger demographic than the company was known to attract. (Whether Kendall's involvement will be felt in quarterly sales — or even how exactly such an impression is measured — has yet to be determined.)
But compare Kendall to Hilary Rhoda, an American supermodel who has also been working with Estée Lauder since 2007 and has bagged campaigns with other high fashion brands. Ranked No. 9 as one of Forbes' Highest Paid Models of 2014, Rhoda raked in $5 million last year, but has only 137,000 Instagram followers. Kendall has 28 million followers, but failed to break the top 10 list of Forbes' top modeling earners last year.
G/O Media may get a commission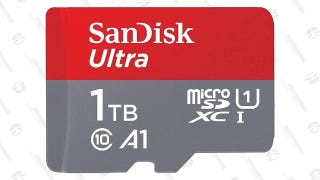 Save $75
SanDisk Ultra 1TB MicroSDXC Card
In fact, as seen below, when you line up Forbes' top modeling earners and compare their income to their Instagram clout, results vary: For many established models, social media followers have little to no correlation to cash. In fact, many household names — Gisele Bündchen, Miranda Kerr, Kate Upton — may not be an obvious choice in the wake of this newfound social media prerequisite.
Gisele Bündchen was the highest paid model of 2014, the Brazilian modeling vet taking home $47 million last year, but with 5.2 million Instagram followers, she actually trails Miranda Kerr.
Miranda Kerr, who ranked No. 7 on Forbes' list after pulling in $7 million in earnings last year, boasts 6.1 million IG followers — the highest amongst the top 10 earners.
Victoria's Secret Angels Doutzen Kroes (ranked No. 2) and Adriana Lima (ranked No. 3) both pulled in $8 million in campaigns and endorsement deals last year, but Lima outnumbers Kroes on the 'Gram. The Brazilian beauty has generated 4.7 followers to Kroes' 3 million.
Even Alessandra Ambrosio, another Victoria's Secret bombshell, who ranked No. 8 with $5 million in earnings last year, has more followers than Kroes. She clocks in at 4 million followers.
Interestingly enough, Liu Wen, the 7th highest earner last year, who was once deemed "China's first bona fide supermodel" by the New York Times and cast as Estée Lauder's first Asian spokeswoman, also trails Ambrosio in social media followers despite her history-making career moves.
Natalia Vodianova (ranked No. 10), the 33-year old doll-faced Russian modeling stalwart, who has been modeling for over 15 years, can only claim 686 thousand followers to her newly-minted IG account.
Speaking of modeling O.G.s, Kate Moss (ranked No. 4)  has absolutely no social media presence at all, but raked in $7 million dollars in earnings last year.
Moss bested buxom Kate Upton, 22, whose career was actually launched via social media when photographer Terry Richardson uploaded a video of the then-unknown young woman dancing the "Cat Daddy" in 2012.
Which is to say, social media does not a modeling superstar make. As outspoken runway legend Naomi Campbell (1.8 million Instagram followers, by the way) said of the "Instagirls" to Meredith Vieira this past winter: "I mean, good luck to them. I just feel like my generation of women — like Cindy Crawford, Linda Evangelista, Christy Turlington, Claudia — we had to earn our stripes and take our stepping stones to get to where we have gotten to accomplish to what we have achieved to this date. Then it just comes like that for them, but I sometimes believe easy come, easy go."
Marjon Carlos is a style and culture writer for Fusion who boasts a strong turtleneck game and opinions on the subjects of fashion, gender, race, pop culture, and men's footwear.