Update, Dec. 19, 6 p.m.: Fusion has learned that at least five women have been detained while pregnant in the El Paso detention center in recent months, according to their family members, attorneys and advocates.
Two of those women are currently detained, including Carmen Guadalupe Rivas Torres, whose husband Juan Carlos Ruvalcaba told us she is three months pregnant. The second is Moriamo Anike Ajagbe who has told us, along with her attorney, Gabriela Contreras of the Las Americas Immigrant Advocacy Center, that she miscarried in the detention center.
A previous version of this article stated that six pregnant women were detained in the center in recent months. While we had two sources who told us the sixth woman was pregnant, we now have other sources telling us she is not. We have not been able to speak with her directly despite repeated attempts. We will continue investigating the case in days to come.
Officials from U.S. Immigration and Customs Enforcement (ICE) have still not confirmed or denied any of these alleged pregnancies despite repeated requests.
Lucia Chilel Ramirez, an undocumented immigrant from Guatemala, turned 23 in the El Paso Processing Center on Saturday. Seven months pregnant and detained for three and a half months, Lucia called me the evening before her birthday from a facility phone, terrified at the prospect of losing her child due to the conditions of her detention.
G/O Media may get a commission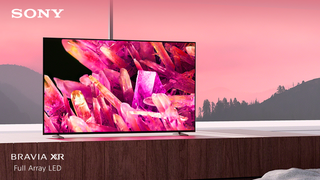 $400 off
Sony 55 Inch 4K Ultra HD TV X90K Series
"I thought things would be better here, once I got to the United States, but they are not," she told me in Spanish while calling from a phone in the detention center on Tuesday. She said she was underfed and denied basic forms of prenatal treatment during her stay.
Lucia made the journey alone from Guatemala, through Mexico, to the United States to seek refuge from her abusive husband, who she feared would kill her unborn child if the beatings continued. She applied for asylum based on her fear of returning home, but was denied asylum by an immigration judge. Now the government wants to deport her.
We first learned about Lucia from a 23-year-old undocumented activist named Santiago Garcia-Leco, who infiltrated the El Paso detention center for two weeks to expose abuses of Immigration and Customs Enforcement (ICE) protocol, including the detention of pregnant women.
Santiago, as member of the National Immigrant Youth Alliance which has infiltrated multiple detention centers, got himself arrested on purpose at the border. He believes that while he was detained there were at least four pregnant women who were housed in the facility, which normally holds 750 inmates. When Santiago revealed himself on Tuesday to be an advocate and eligible for the Obama administration's deferred action program, he was released.
Pregnant women aren't supposed to be detained unless in extreme circumstances, like if they are for some reason a threat to public safety, according to ICE's 2011 prosecutorial discretion memo. Rather, there are alternatives to detention like house arrest that are supposed to be used with low-risk pregnant women pending deportation.
These rules exist in part because detention centers just aren't set up to handle the needs pregnant women require, according to Jennifer Podkul, a senior program officer at the Women's Refugee Commission who regularly tours detention centers.
"These facilities have very low standards for someone with perfect health conditions, but especially for anyone with additional needs," she told us.
We asked ICE how many pregnant women the agency houses in detention centers in the United States everyday.
"We don't detain pregnant women," ICE spokesperson Nicole Navas initially told us on Wednesday, while Lucia was still detained. "We don't have numbers for pregnant women, because if someone is pregnant, we won't detain her. I mean, if it's someone who is mandatory detention, if they're a public safety threat, that's different."
We informed Navas, the spokesperson, that Lucia was in the El Paso detention center and told us she is in a late stage of her pregnancy. ICE admitted later that afternoon that Lucia told the agency she was pregnant on Sept. 10, and was given a pregnancy test which came back positive. Despite that discovery, she was kept in the center for three more months.
Just hours after we told ICE's national press office about Lucia's case, she was released with no explanation as to why they had kept her for so long or why they released her so suddenly.
"Her case was reviewed, and she was reviewed," said ICE spokesperson from El Paso, Leticia Zamarippa. "Nothing prompted the review." ICE couldn't say why she had been put in a detention center in the first place considering their stated policy of not detaining most pregnant women. There was no indication that Lucia, while seven months pregnant, met the requirement for mandatory detention or was a "public safety threat."
Advocates, like Kelli Garcia from the National Women's Law Center, say ICE often strays from their stated position on pregnant women.
"Whenever possible, pregnant women and nursing women, are supposed to be released," Garcia said. "The stated immigration policy has to focus resources on detaining immigrants who are considered to be a threat. But that's not actually what's happening on the ground."
Lucia described being in detention as "living in hell."
"I have constant headaches, and constant stress, and I'm always hungry," Lucia said in Spanish while calling from a phone in the detention center on Tuesday, before her release.
She worried the conditions she was subject to would cause harm to her unborn child. She says she didn't have enough food to eat, and often relied on other inmates giving her extra eggs in the morning.
"We ate dinner so early, at 4:30 in the afternoon, so I was very hungry during the nighttime especially," she said.
Lucia also said she did not get appropriate medical treatment.
"When I go to the doctor, telling them I have pains in my back, in my stomach, in my head, they tell me to go drink water, and that's it," she said on Tuesday, while in detention. She also says she was refused care and was accused of lying about her ailments. When she asked for an ultrasound to ensure her child was healthy, she was told it was too expensive, she said.
Zamarripa, the ICE spokesperson from El Paso, said in a statement to Fusion that "the detainee has been followed by an obstetrician for her pregnancy throughout her detention stay without any problems or complications."
Lucia told us she wasn't the only pregnant woman in the El Paso detention center subjected to this treatment.
Members of the National Immigrant Youth Alliance also put us in contact with the family of Carmen Guadalupe Rivas-Torres, another inmate at El Paso Processing Center and a twenty five year old native of El Salvador.
Her sister, Patricia Torres, 27, told us that Carmen is two months pregnant and was apprehended in October while crossing the border.
"We're worried about the food she is getting, she's not taking any vitamins," Patricia said of her sister. "My sister says a woman lost her baby in the detention center, so we're worried."
Carmen interacted directly with the woman who allegedly miscarried while in the facility, Patricia told us. ICE did not comment on Torres' case or the other woman's alleged miscarriage within the center.
Lucia and Carmen's experiences may not be exceptional, according to a 2009 Human Rights Watch report on women in immigration detention. The report documents abuses ranging from the shackling of pregnant women during transport—a practice condemned by the American College of Obstetricians and Gynecologists—to denying a pregnant woman prenatal care entirely.
We spoke with Lucia on Thursday evening, after she was reunited with her family in Columbus, Ohio. She appealed the ruling denying her asylum, and there will be a retrial in the coming days.
"One part of me is very happy, because I'm out of there," she said. "But the other part of me will still be tortured knowing that there are pregnant women in there living through that."
As part of an on-going Fusion investigation into the treatment of pregnant women in immigration detention, we will continue to track the stories of women like Carmen and Lucia.
Do you know a pregnant detainee? Email the writer of this article, Cristina Costantini, at cristina.costantini@fusion.net.
CORRECTION: A former version of this story stated that ICE denied Lucia Chilel Ramirez asylum. The asylum decision instead came from the Executive Office for Immigration Review (EOIR). The article has been updated to reflect that.
Cristina is an Emmy-nominated reporter and producer. She recently won an Alfred I. duPont-Columbia University Award for her documentary Death by Fentanyl. She attended Yale University and has reported for the New Haven Independent, ABC News, Univision, The Huffington Post, and Fusion.