Welcome to WHAT NOW, a morning round-up of the news/fresh horrors that await you today.

The full extent of the damage caused by Hurricane Harvey—which ripped through Texas this weekend, dumping more than 50 inches of rain on the greater Houston area—isn't yet known, but officials are predicting that upwards of 30,000 people could be forced into temporary shelters.
That's the number William "Brock" Long, administrator of the Federal Emergency Management Agency, mentioned when discussing the scale of the crisis with reporters on Monday. Some 2,000 rescues, from rooftops and water-logged vehicles, have already been conducted in Houston alone.
A CNN meteorologist characterized the disaster as "a 1-in-1,000-year event," and Reuters said the hurricane, which made landfall on Friday, is the worst to hit Texas in 50 years.
G/O Media may get a commission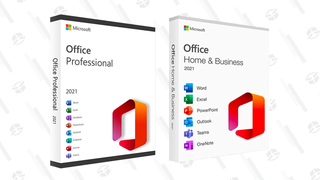 89% off
Microsoft Office Professional 2021 Lifetime License
The city of Dallas was scrambling to set up a massive shelter to house 5,000 evacuees from the storm, which has already killed at least two.
And it's not over: torrential rain is forecast to continue pummeling parts of Texas, much of Louisiana, and parts of Mississippi and southern Arkansas, according to the Weather Channel.
WHAT ELSE?

In response to Trump tweeting "we must have THE WALL. Mexico will pay for it through reimbursement/other" on Sunday, Mexico yet again reiterated that it is definitely, absolutely not paying for a physical barrier at the border "under any circumstances."
Trump is expected to roll back the Obama-era ban on the military transferring surplus gear to local police departments, which was a response to uprisings—and local law enforcement's jaw-dropping military-style response to those uprisings—in the greater St Louis area.
Oh and LOL: Trump's company was pursuing plans for a Trump Tower Moscow while he was running for president.