Although the scorching deserts of Indio, California seem to have attracted a mob of celebs ready to rock out at this year's Coachella music festival, a few stayed behind in L.A. to walk the red blue carpet at last night's MTV Movie Awards and invariably hawk the summer blockbuster films they'll need us to rally behind.
Here's a  look at the ensembles of those who got all gussied up to take a gold-plated popcorn statue home:

LBD
G/O Media may get a commission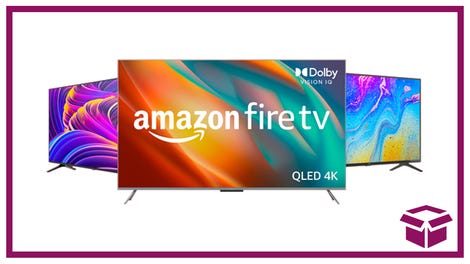 Ooh. stunning.
New Amazon Fire TVs
Leave it to J.Lo to take a "closet staple" as tired and as done as a LBD (Little Black Dress) and transform it into a high gam, high glam situation, with plenty of gilded accessories, bronze make up and tresses, and glowing calf muscles.
Amy Schumer, the night's bawdy host, chose a monochromatic bod-con frock that smacked of that "funnywoman Hollywood makeover" that befell Tina Fey, Kristin Wiig, Lena Dunham, and Aubrey Plaza before her. If you're unfamiliar with the phenomenon, the makeover requires serious, tailored style that completely belies the comedienne's gruff and unapologetic humor for positively radiant results.
Rebel Wilson may be going down a similar style path with her own version of the LBD, but since there's a cape attached, we can assume she still gives zero fux.

HOT TOPIC
Light as a feather, stiff as a board: this high luxe Goth trend that we've gone all Wes Craven for popped up on the blue carpet last night, sprinkling magic about. "Teen Witch" Hailee Steinfeld breezed in (seemingly on a broom) in a flowy Rodarte number and lace-up boots, while Cara Delevigne sauntered about in a maroon mini with flouncy sleeves that almost tipped over into "Renaissance fair" territory.
The bewitching R&B chanteuse Tinashe pulled from Alexander Wang's Fall 2015 collection for a floor-length, pearl emblazoned gown that had major "coven" vibes, while Hana Mae Lee just outright affixed a black cross in electrical tape along her plunging neckline to channel the winds of the North, South, West, and East.

POP O' COLOR
Even though Easter was last week, pastels have hardly died down, what with every starlet looking like a Lindt foiled confection last night. From Scarlett Johansson's jaw-dropping pink jumpsuit, Charli XCX's madras-print mini trench, to Bella Thorne's digitzed printed Peter Pilotto frock, many young bright things looked like they were ready to pop out of an Easter egg basket.

HEAVY METAL
My new favorite person and imminent best selling author Amber Rose arrived shimmering from her peroxide blonde dome to her glittering toes in a metallic accented number.
Victoria Justice and Jessie J followed suit, with a deluge of bling covering every square inch of their ensembles, like little diamonds in the sky.

ACTION SHE-RO
I had no idea what category or trend to plug Shailene Woodley into exactly with this ensemble, so I simply made one especially for her. A live action star come to life, she's one part "Tomb Raider", one part "Divergent", one part pirate, one part eater of clay. It all kind of works, especially the swashbuckling boots and that self-assured smile that seems the result of bone broth soup.


BOYS WILL BE BOYS
It's adorable and slightly stressful when men get the dress code wrong — especially men with access to wealth and stylists — so I was of course torn when some of my favorite leading men like Miles Teller and Michael B. Jordan showed up last night. I am aroused and repelled at the very same time by Jordan's zoot suit, while Teller's super ~casual~ look leaves much to be desired. I, like so many women, want to make them over into my own image of male style, which interestingly enough looks something like Pete Wentz in this gray herringbone suit. The sleeves are a little long, but the cut is fantastic and when has Wentz ever looked better?! Fall Out Boy, no more.
Marjon Carlos is a style and culture writer for Fusion who boasts a strong turtleneck game and opinions on the subjects of fashion, gender, race, pop culture, and men's footwear.