MTV's hour-long documentary White People, which premiered Wednesday night, has been in the news every day since the 60-second trailer was released three weeks ago. Multiple petitions were launched demanding MTV not air the film, which explores the notion of white privilege.
One petition launched two weeks ago claimed the film was "shaming white people that have done nothing wrong" and included an image of a young white man in tears. But the person who launched the petition obviously had not seen the documentary, because the guy in the picture is a gay southerner who accepts that racial bias exists.
The controversy over the documentary isn't going away anytime soon, because now filmmaker Jose Antonio Vargas hopes to get his film in front of high schoolers and college students.
MTV is hosting "educational resources" on its website to accompany the release of the documentary. The site includes a discussion guide educators can download along with an interactive bias quiz and profiles that explore "how privilege works" in different scenarios, like hailing a cab in New York City.
G/O Media may get a commission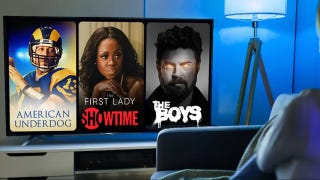 UNDER $1
99¢ Prime Video Channels
"I can't think of a more essential time for high school and college students to be having these conversations, because it's not only about race, it's also about immigration and identity," Vargas told me ahead of the broadcast premiere of his documentary on Wednesday. (Full transparency, Vargas is a friend of mine.)
But if the 60-second trailer caused enough controversy for Fox News to devote multiple segments on the documentary, news that young people will now be able to see it in classrooms will undoubtedly cause even more outrage amongst critics. Also, a number Republican legislators have actually passed bills that ban school districts from having ethnic studies courses—so a lesson plan on white privilege may also face its own battles.
The discussion guide follows the same themes seen in the documentary, like the changing demographics in the country, white privilege and affirmative action. The guide includes questions like "Do you think white people have advantages that people of color don't have? What are those advantages?"
Vargas, 34, said in the last four years he's been part of at least 400 engagements in 45 states where he's talked about immigration and often times the conversation turned to race. He said the young people he's met are ready to talk about race but that they just don't have spaces where they can openly share their questions and views.
"People are afraid of asking questions because by asking questions they reveal themselves and I don't think people want to do that because they can be perceived as being rude, impolite, racist or insensitive," Vargas said.
Vargas had been thinking about making the documentary White People for 12 years before he started filming in January this year. He first explored the subject in a story he published in the San Francisco Chronicle as a 22-year-old intern in 2003.
(If you're curious, the story was about a San Jose, Calif., high school where white students were the minority. The first line in the story read: "The other students call her 'white girl.'")
Now more than a decade later Vargas wants to go back in to high schools.
Vargas said his organization Define American is working on expanding the White People discussion guide into an actual curriculum aimed at educators that meets the Common Core State Standards, the federal program that details what language and math skills students should know by the end of each academic year.
"Usually these type of conversations are restricted to institutions of higher education, but I think it's important to be talking about these issues with high school students too," said Jose Lara, a high school teacher at the Santee Education Complex in South Los Angeles.
"Issues of diversity and white privilege, class, gender and even sexuality affect all of us. If we're going to have a vibrant democracy where we make decisions not just about ourselves then we need to talk about these issues," said Lara, who this year received the Social Justice Activist Award from the National Education Association, the nation's largest professional employee organization representing educators in public schools.
Lara said the White People documentary "needs to be shown in the classroom" and that it could be a good starting point to expand conversations about institutional and systemic racism.
Vargas, the filmmaker, says he wanted to make a film that made race personal for young people. "Young white people have a race and they need to know that," he said.
"I think everyone in this country, especially white people, have to answer three questions: where did you come from, how did you get here and who paid," Vargas told Fusion.
"The reasons I ask people where they came from is because that is a way of building empathy," Vargas said.