The Boston Globe reports that the Museum of Fine Arts Boston is refashioning "Kimono Wednesdays," which allowed visitors to try on museum-provided kimonos in appreciation of Claude Monet's painting La Japonaise. The work of art features the artist's wife, Camille, donning a traditional Japanese kimono while fanning herself with a paper folding fan typical in Japanese culture. Kimono Wednesdays' tagline was "channel your inner Camille Monet."
According to Artnet News, the exhibition intended to celebrate Japanese culture and its inspiration on Impressionists such as Monet. Yet it made the mistake of pigeonholing an entire culture into an outfit. Furthermore, inviting visitors to "channel their inner Camille" implicitly utilizes the kimono as a mere vessel in honoring the artist's wife. "Kimono Wednesdays" was almost immediately met with protests, both online and in person.
A group called Stand Against Yellow-Face at MFA organized a small group of protestors and made signs boycotting the event. The Boston Globe noted that one protest sign read, "Try on the kimono [and] learn what it's like to be a racist imperialist today!" One protestor told the Globe: "I don't see how this is arts education. If anything, it perpetuates Halloween costumes of various races."
The group told Artnet News: "The act of non-Japanese museum staff throwing these kimonos on [passersby] as a 'costume' event is an insult to not only our identities, experiences, and histories as Asian-Americans in America, but affects how society as a whole continues to deny our voices today."
G/O Media may get a commission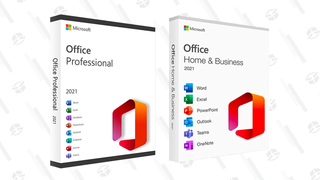 89% off
Microsoft Office Professional 2021 Lifetime License
"Japan isn't your mystical fantasy playground for you to go galavanting [sic] around in a dead Frenchman's orientalist vision of Japan," wrote Facebook user Kāpena on MFA Boston's page.
Representatives of the museum initially denied allegations of racism behind their seemingly innocent method of building audience interaction. According to Metro US, the museum printed a one-page memo on Tuesday afternoon and gave it to protestors; the letter confidently declared: "We don't think this is racist. We hope visitors come away with a better understanding of how Japanese art influenced the Impressionists like Monet."
Monet's painting is considered Japonism — a representation of Europe's deep fascination with Japanese culture after the country opened its borders to Western trade. Despite crushing on all things Japanese, Europe asserted superiority over the Japanese — the line between cultural appreciation and cultural appropriation blurs. As the MFA website points out, in La Japonaise, Camille Monet's blonde wig is purposely emphasized in order to underscore her European roots.
In an August 2014 article detailing the influence of Japan's art on the west, Jeff Michael Hammond told the Japan Times that Monet later dismissed La Japonaise as a "whim."
Instances of Japanese culture being compartmentalized into stereotypes are not new. From "geisha-inspired" routines by Katy Perry to Avril Lavigne videos and Gwen Stefani's Harajuku Girls, Japan is repeatedly misrepresented and misunderstood in Western society. Furthermore, it is all too frequently grouped under the "Asian umbrella," where stereotypes include a blanket fascination with dragons, kung fu, take out, and vibrant flowing outfits — such as the kimono. Exhibits like the MFA's render kimonos and other culture's everyday outfits as costumes.
Since Tuesday, the exhibition has been amended to only feature the kimono as a display visitors can "touch and engage with" rather than try on.
Nikita Redkar is the editorial intern for Fusion who loves writing all things pop culture and feminism - sprinkled with the occasional punchline. She likes cute animal gifs and dislikes long walks on the beach, plagues, and other cliches.