Islamophobia, while certainly not new in America, has become more — shall we say — out in the open since Donald Trump took office. Muslim residents of Indianapolis, IN were confronted with an astoundingly inaccurate and insulting portrayal of the Prophet Muhammad after a billboard appeared on a busy stretch of I-495 this week.
The billboard sarcastically describes Muhammad as "the perfect man" before listing a few "facts" (an apt word phrase might be "alternative facts") about Islam's most exalted prophet. Among Muhammad's supposed traits listed by the sign: he "beheaded 600 Jews in one day," he was a "rapist," and he "tortured and killed unbelievers," to name a few.
It's unclear who paid for the billboard's installation. However, a simple Google search of "educate truthophobes" reveals a slew of anti-Islam sites and at least one website dedicated to convincing lawmakers that the Quran is just as dangerous as Mein Kampf.
Lawmakers and advocates have spoken out against the offensive sign since it was spotted. Republican Senator Todd Young shared The Indianapolis Star's story about the billboard on Twitter and labeled it "disturbing and divisive."
G/O Media may get a commission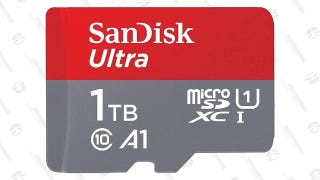 Save $70
SanDisk Ultra 1TB MicroSDXC Card
Rima Shadid, the Executive Director of the Muslim Alliance of Indiana spoke to NBC News about the billboard and its "cowardly" sponsors. "These are completely false statements. I'd really like people to read about the seven points that are mentioned on the billboard because you'll find that none of them are true," Shadid said.
The billboard is particularly cruel given that Ramadan, a month of celebration for Muslims, began just ten days ago.