The Secret Life Of Muslims) : title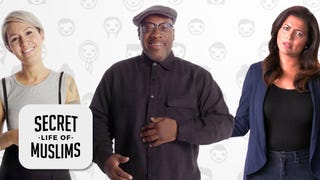 The Secret Life Of Muslims
Secret Life of Muslims uses humor and empathy to subvert stereotypes and reveal the truth about American Muslims.
If you're a regular Fox News viewer, perhaps you think the word "jihad" means "a looming holy war that's coming soon to your suburban home." Well, you'd be wrong.
Splinter is teaming up with Smartypants Pictures to premiere the second season of The Secret Life of Muslims, a video series with a view on modern Islam you're not getting on cable news. Episode one, "Jihad," features American Muslims (including Ismael Loutfi, Wajahat Ali, Ahamed Weinberg, Mona Shaik, Kathreen Khavari, and others) diving into the real meaning behind the word— mostly in terms of how it relates to dessert.
Check out new episodes of The Secret Life of Muslims every Wednesday.