As stories about a $130,000 payment from one of Donald Trump's closest associates to Stormy Daniels continue to dominate headlines, new reports allege that another payment was made by a Trump ally to squash a potentially damaging story, based on a tip that he may have fathered an illegitimate child with an employee during the 1980s.

The New Yorker and the Associated Press first broke the news on Thursday morning that Dino Sajudin, a former doorman at Trump Tower, sold the names of the alleged mistress and child to American Media, Inc., the publisher of the National Enquirer, for $30,000 in late 2015—just months after Trump launched his presidential campaign.
The New Yorker stressed that it had not found evidence that the story about Trump was true.
In exchange, AMI got the rights to the story, which Sajudin claimed had been relayed to him by Trump's then-head of security, "in perpetuity," according to the AP. The agreement was later amended to add a $1 million penalty if Sajudin ever spoke out about the story.

Then AMI CEO David Pecker, a personal friend of Trump's, got involved, according to the New Yorker's Ronan Farrow:
Shortly after the company paid Sajudin, the chairman and C.E.O. of A.M.I., David Pecker, who has spoken publicly about his friendship with Trump, ordered the A.M.I. reporters to stop investigating, the sources told me. One of the employees involved said, "There's no question it was done as a favor to continue to protect Trump from these potential secrets. That's black-and-white."
G/O Media may get a commission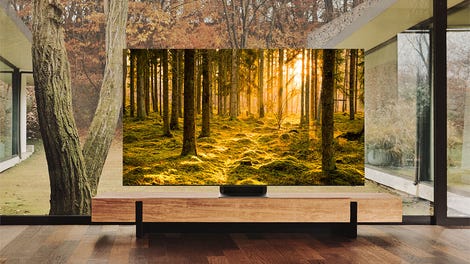 Up to 40% off
Samsung Smart TVs
Texts and emails obtained by Farrow showed that Enquirer staffers were working to report out the tip in November 2015, including by staking out the home of the mother and daughter allegedly tied to Trump and hiring a private investigator to administer a lie detector test to the doorman, which he passed. Reporters on the story expressed skepticism about Sajudin's credibility—the lead reporter on the story told the magazine "I do not believe that story was true"—but all six of Farrow's sources agreed that AMI made a concerted effort to kill it nonetheless.
On Wednesday night, Radar Online, an AMI publication, published a story about the love child allegations. Farrow wrote that the story was published 30 minutes after he contacted AMI for comment about the reported payment.
This is the third reported instance of the president's associates buying and burying salacious stories during Trump's run for the White House. Along with the $130,000 lawyer Michael Cohen paid to Daniels, AMI also paid a reported $150,000 to suppress former Playboy Playmate Karen McDougal's story about a nine-month-long affair with Trump.

Cohen acknowledged to the AP that he discussed the tip when the Enquirer was working on the story, but said he was acting as Trump's spokesperson and did not know about the $30,000 payment beforehand. AMI also confirmed it had discussed the tip with Trump's representatives.
Interestingly enough, a source told the New Yorker that Cohen "was kept up to date on a regular basis," about the story, but he dodged Farrow's attempts to secure comment, likely because his home and office were being raided by the FBI. Coincidentally, investigators were reportedly seeking, among other things, communications between Cohen, Pecker, and a top Enquirer officer.

What a tangled web of bad men and shady dealings! But the question remains: Will any of this matter? One survey, published Tuesday by Quinnipiac, shines some light: Americans said they believe Trump had an affair with Daniels, overwhelmingly believe that Trump knew about Cohen's payment to the actress (a charge Trump has denied), and still say they don't care.