Would fashion week be truly complete without a glaringly obvious and offensive example of cultural appropriation? As New York Fashion Week winds down today, it would seem that KTZ's tone-deaf Fall 2015 collection will be taking the honors this season.
While KTZ's Marjan Pejoski has often courted spectacle with his work — he is the mastermind behind Bjork's now infamous swan Oscar dress, after all — the Macedonian-born designer's collection was, according to WWD, a tribute to the "primal woman indigenous to this land, who evolves into a sexualized, empowered being." The clothes have left many actual indigenous women upset. Some believe the garments be a conspicuous hijacking of Native culture and the specific work of Northern Cheyenne/Crow designer Bethany Yellowtail.
As images from KTZ's runway show began hitting the internet — bold designs creating a clumsy and lazy mishmash of varied Native iconography with plenty of feathers — Twitter timelines began to buzz with heated discussion over the "cultural theft" that the collection so brazenly wielded.
G/O Media may get a commission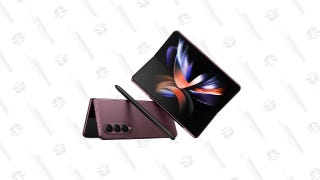 Save Up to $300
Galaxy Z Fold4
https://twitter.com/PeaceofDawn/status/568224622216224768
Vocal Native Twitter users @NativeApprops and @BeyondBuckskin quickly began compiling side to side comparisons of Pejoski's designs with not only the original beading of Lakota skinners, but also that of contemporary Native fashion designer Bethany Yellowtail.
Hey #NYFW #NYFashionWeek #NYFW15: Go visit http://t.co/88cJ8k6JLr if Indigenous designs are what you're interested in. The ORIGINAL ones.

— Lauren Chief Elk (@ChiefElk) February 19, 2015
The designs are eerily similar, with Pejoski directly lifting Yellowtail's Crow bead work that has been passed down through her family for generations, and plopping them into his own collection. While Pejoski's website states that the designer creates "ready-to-wear clothing with couture detailing known for its raw energy and contemporary urban edge, but also for embracing ethnographic references and multiculturalism," Dr. Adrienne Keene, scholar and author of Native Appropriations, saw the designer's work as a blatant example of "cultural theft" that is unremarkable in its lack of ingenuity. She writes,

There is absolutely no creativity here. If I can point to several other lines in the last year, and dozens more over the last decade, that have done the exact. same. thing., there's nothing original or new about your designs–cultural appropriation notwithstanding. It was our people who did the heavy lifting creative work for you.We designed these images. We have the knowledge and understanding of what they mean and how they can be appropriately used. We evolved and developed and maintained our cultures for thousands of years. Our cultures are not in, what Jessica [Metcalfe of Beyond Bucksin] calls, "the free bin" for your taking.
This failure to credit Yellowtail's work or any specific Native tribes suggests to Keene that indigenous culture and ideas are not protected or considered worthy within a larger and mainstream marketplace of ideas.

So why is it that Indigenous intellectual property is not seen as "real" intellectual property? Yes, the boundaries are difficult to find and difficult to enforce–but if KTZ had directly ripped off images from, say Valentino, or Yves Saint Laurent, or, shoot, McDonalds or Apple or anyone else, there would be a major case to be made about violations of intellectual property rights, and people would scoff at his lack of creativity. But "primitive" or in his words, "primal" peoples are not ever given the same consideration. Our designs and cultural markers are used to "enhance" white culture, while white cultural artifacts are protected and policed.
Attempting to celebrate diversity by sizably poaching the work of creatives of color sends a message that fashion's interest is ephemeral and purely surface. But for indigenous cultures, these ornamental elements are part of a long-standing tradition, and often sacred. Style.com praised the clothes for their detailing and "spirit," but this collection reinforces a painful history of domination, subjugation, prejudice and discrimination that has been blindly truncated into ill-conceived modifiers, such as arrows atop a model's head. As Keene suggests, rather than ripping off Yellowtail's designs or the traditional handwork of Native tribes, fashion designers need to actually collaborate and work with Native artisans to curve this continual mishandling and erasure. Instances like KTZ's collection show that while cultural appropriation remains a weighted subject, what detractors really want in return is simply inclusion.
Marjon Carlos is a style and culture writer for Fusion who boasts a strong turtleneck game and opinions on the subjects of fashion, gender, race, pop culture, and men's footwear.