Earlier this month, Coach announced a new spring collection, "A Tribe Called Coach," described as a "free-spirited, festival-inspired take on the tribal trend." This raised eyebrows among Native American activists.
The collection references Native culture and borrows from its visuals, but uses a vague, nonsensical descriptor (which tribe? a Native American tribe? A Tribe-Called-Quest-tribe? A tribe of feather-clad hipsters?) to explain the connection.
In Native Max Magazine, a Native fashion publication, Kelly Holmes pointed out that several of the products are offered in "dreamweaver" and "fire dance" designs, phrases definitively linked to Native American culture.
G/O Media may get a commission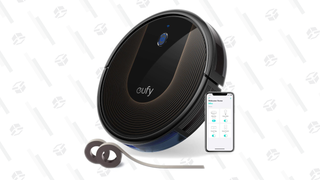 48% Off
Eufy BoostIQ RoboVac
Holmes also described a chat with a Coach customer service representative conducted through the retailer's website:

When asked why the collection was called 'A Tribe Called Coach' in the first place? "Tribal design is a current trend. 'A Tribe Called Coach', that would be the marketing choice of words to promote this collection." We also asked if the collection were in any way linked to Native Americans […] there was no answer.
Later, Native Max Magazine posted a response to readers on Instagram explaining, explicitly, their problem with the new line.
From the post:

"Although there are TONS of reasons and explanations on why this collection is offensive and total misappropriation, we'll touch on the fact that it takes business and the spotlight away from actual #nativedesigners who do create beautiful, trendy purses, jewelry and accessories."
Purchasing from Coach, they argue, redirects business from Native American artists towards corporations that, as Native News Magazine points out, "couldn't even answer this question: How is it linked to Native Americans?"
Christine Nelson, who recently defended a dissertation on American Indian college students, told Fusion in a phone interview about her reaction to the line. At first, she said, she took it as just another example of appropriation, but she was troubled by some jewelry charms. "I looked a little bit closer at some of the details of the descriptions, in particular to the charms… One was a skull, and I was very appalled by that."
Nelson was struck by the flippant language used to describe the bracelet — "… whimsical charms collected on an imagined journey across America" — alongside the violent symbolism of a red skull. "Red generally refers to Native American people, and the skull means death." She saw it as a reference to dead Indians.
Nyona Smith, president of The Tohono O'odham Student Association at The University of Arizona, was also upset by A Tribe Called Coach.
In a phone interview with Fusion, she described her email correspondence with the company; like Holmes, she questioned if Native designers were involved.
She received a response from a representative at Coach that she described as a brush-off:

"Coach is committed to delivering high quality products that carry on our tradition of innovation and free-spirited inspiration. We are proud to celebrate Southwestern history, which is comprised of many groups that have contributed to North American culture."
Coach did not respond to repeated requests for comment from Fusion.
Coach's use of "festival" and "free-spirited," plus the phrase "A Tribe Called Coach," itself, nod heavily towards Coachella. Not by accident — the first weekend of the music festival occurred the day Coach pushed out its new style on Facebook:
The problem here is that, as many groups have complained (see: the Internet), "festival culture" has often become code for appropriation.
Smith, 29, suggests companies that profit from Native American culture should give back to those communities. She told Fusion in a phone interview that this is the first time she's reached out to a brand over concerns of cultural appropriation. "I've been Coach's customer since I was 18… That was my brand, I really like their products." When asked if she'll still be a Coach customer, she said no. After we spoke, Smith received a second letter from Coach, inviting her to contact their corporate office or send a note via snail mail.
This is not the first time a brand has been criticized for unfairly using Native American culture for profit.
During New York Fashion week earlier this year, critics pointed to KTZ's feather-filled collection as a gross example of cultural appropriation.
The Navajo Nation sued Urban Outfitters back in 2012 over using their trademarked name to market accessories and apparel. On Last Real Indians, Danielle Miller detailed Ralph Lauren's long history of appropriation.
Others, like Native Appropriations author and postdoctoral fellow in Native American Studies at Brown University Dr. Adrienne Keene, say the Coach line is such a call-back to previous instances, that there's nothing new to criticize:
In an email to Fusion, Keene expanded on the thought:

"I have been writing about these issues consistently for five years. I've written over 300 posts, and many of them directed at brands, just like Coach, who misuse Native designs and images… In each of these cases, I take the time to lay out, point by point, why these brands are wrong to appropriate Native designs, talking about the power dynamics at play, the long history of the stealing of Native culture, and the government policies put in place to prohibit us as Native peoples from practicing our cultures. When I saw the Coach line, I couldn't fathom how I was supposed to break it down again."
Nelson also pointed to social media as a useful arena. "Our community has not necessarily infiltrated mainstream media enough to get our voices out there. Social media is useful to educating people. For me, I can at least still voice my concerns, and have a way to take action against these types of appropriations."
And at least some brands are starting to take notice, said Keene. "With the recent Ralph Lauren line, we got the website taken down within 48 hours. That never would have happened back in 2010." Ralph Lauren's response, posted by CNN back in December, offers a fitting mea culpa:"We recognize that some of the images depicted in the RRL look book may have caused offense and we have removed them from our website."
On another occasion, she said, pushback led to progress. "Paul Frank back in 2012 had a similar fiasco, but it ended with a collaboration with Native designers which was really positive." Elie Deker, President of Saban Brands (which in turn owns Paul Frank) issued a statement at the time: "This collaboration has been an opportunity for us to help raise awareness about cultural misappropriations, which unfortunately happen too often in product, promotion and fashion." He added:

"Our partnership with these four talented Native American designers was the direct result of our own awakening to this issue from our Paul Frank Fashion's Night Out event back in September of 2012. We hope this 'Paul Frank Presents' collaboration will demonstrate more appropriate ways to engage and celebrate the Native American communities."
Your move, Coach.
Danielle Wiener-Bronner is a news reporter.