More than 200 severely impacted and dead sea turtles have washed ashore in Cape Code, Massachusetts over the past few days, reflecting a trend that has steadily grown over the past four decades.

Robert Prescott, director of the Massachusetts Audubon Society's Wellfleet Bay Wildlife Sanctuary told the Cape Cod Times on Friday, "It was like they were flash-frozen, flippers in all weird positions like they were swimming." According to Prescott, this time in an interview with CNN, a total of 173 turtles found around Cape Cod this past week died, and 54 survived. Bad odds for the frostbitten turtles.
The turtle prognosis was reportedly worse on Thanksgiving when 82 turtles washed up, all but one of which died, a phenomenon Janette Kerr, spokesperson for the Wellfleet Bay Wildlife Sanctuary, attributed to "drastic change in the weather overnight." The Cape Cod Times reports "With more than 500 sea turtles rescued off Cape beaches this year, it already has surpassed what would be considered an average year, and Prescott thinks they may reach 1,000 before the stranding season ends around Christmas."
According to NPR, scientists say this turtle blight is due to disturbances caused by the warming of the planet's oceans, brought on by climate change:
"Scientists say that the naturally migratory turtles are heading farther north as climate change warms the planet's oceans. Some are now summering in the Cape Cod Bay, where they become trapped 'by the Cape's hook-shaped geography,' the sanctuary said.
Blocked from migrating down to warmer waters, the turtles are left vulnerable to volatile weather, like this week's cold snap and gale-force winds."
G/O Media may get a commission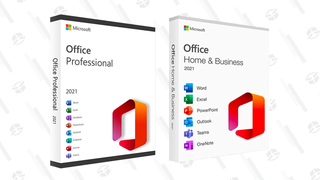 89% off
Microsoft Office Professional 2021 Lifetime License
I can't help but be reminded of a report from last winter that frozen sharks were washing up on the shores of cape cod. It appears they too had been victims of "cold shock," not exactly a controversial conclusion.