On Friday, Shriver Media and Special Olympics International published a poll on attitudes towards intellectual disabilities in the U.S. The National Institutes of Health describe intellectual disabilities, like Down syndrome and autism, as causing problems with the ability to learn or adaptive behavior, among other things. Roughly 6.5 million Americans have an intellectual disability.
According to the survey, conducted online over two days in July by Harris Poll, younger Americans have more tolerant views towards the differently-abled. But that may not be enough.
The Shriver Report Snapshot: Insight into Intellectual Disabilities in the 21st Century found that respondents aged 18 to 34 were more likely than their older counterparts to know someone with an intellectual disability, and more open to the idea of their children dating or marrying someone with an intellectual disability. Theoretically, this should open some doors. A press release announcing the report explains "that the more than half of Americans who have personal contact with someone with intellectual disabilities are increasingly accepting and positive."
But when asked more specifically about interactions with—and treatment of—those with intellectual disabilities, several respondents had less inclusive attitudes. 39% of Americans said they don't think children with intellectual disabilities should be in class with other children, and 22% said adults with intellectual disabilities shouldn't be allowed to vote.
G/O Media may get a commission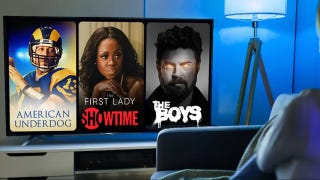 UNDER $1
99¢ Prime Video Channels
The report also shows that "retard" has not yet been ousted from the American vocabulary. According to the poll, 89% of Americans say that calling someone with Down syndrome retarded is offensive; and 76% say the label is offensive when used in a derogatory way to refer to a stranger. But 56% say its fine to use the word to describe yourself after making a mistake, and 38% have no problem with using the word to describe a friend.
The report is published ahead of the Special Olympics World Games, which kick off  in Los Angeles on July 25.
Danielle Wiener-Bronner is a news reporter.