FERGUSON, Mo. — There are two very different conversations happening here that are sparking divergent reactions to the shooting death of Michael Brown by police officer Darren Wilson.
On one end of town, tensions have exploded for nearly two weeks — among many African-Americans protesting not just Brown's death but also against injustice and persistent inequality. For these objectors, a return to the status quo is not an option. They want to increase voter participation to get a more diverse slate of political candidates and change department hiring practices to get a police force more reflective of their community.
On the other end, residents are filing into the Corner Coffee House in downtown Ferguson, picking up yard signs and t-shirts to proudly and publicly declare their love for their city.Their group, aptly named Friends of the City of Ferguson, has emerged to counter what they call negative and incorrect images of their town in the media. For them, Ferguson has become a scapegoat that in reality is no worse than many other cities in America. Many are eager to move on from the recent unrest and look forward to a return to normalcy.
Among their less-drastic suggestions for bringing progress to the community: Holding a parade, executing a beautification project along the city's black corridor and getting a large group to make a viral video on social media of residents taking the "Icebucket Challenge."
In recent days, the latter group — which is largely white — has become increasingly vocal in their support for Ferguson as their movement has gained ground. On Thursday, the group held their first meeting at the First Baptist Church, bringing into a public forum a conversation that has also been happening here, albeit away from the cameras. About 200 people attended.
G/O Media may get a commission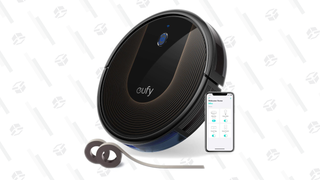 48% Off
Eufy BoostIQ RoboVac
The Friends of the City of Ferguson plan to donate their proceeds to a local youth initiative and to help area businesses that suffered damages in last week's riots and looting. The nascent campaign has sold more than 3,000 t-shirts and given away more than 5,000 signs, and plans to order more of both.
It's not clear who is leading the effort for change in Ferguson's African-American community. Several different groups, both local and national, have been represented at church meetings and at the protests along West Florissant Avenue, offering counseling, humanitarian aid, legal guidance, food and other assistance. Clergy, volunteers, and elders are among those who have helped with peacekeeping efforts between police and demonstrators.
The stated aim of Thursday's meeting was to begin healing and offer to suggestions on how to move forward. Unwelcome were "war stories," or gripes about past wrongs. While sympathy was expressed for Brown's family, there was little mention of the shooting.
Flyers were distributed listing "Facts About the Ferguson Community" that people were asked to refer to as talking points, should they be interviewed. The handout mentioned Ferguson's 10 neighborhood associations, its monthly community newspaper, and award-winning farmer's market.
An employee at the Corner Coffee House displays her pride in Ferguson. Photo by Errin Whack.
Many attendees wore their "I Heart FERG" and "FERGUSON PROUD" t-shirts to the meeting, which lasted about 90 minutes. The crowd was overwhelmingly white and older — a fact not lost on some who attended.
"We are not including the people from the other side of the railroad tracks," said Kyle McLafferty, 26, a Ferguson resident who choked back tears as he addressed the audience. "Why don't we go outside of our comfort zone?"
McLafferty suggested taking future meetings to areas of town where more African-Americans live and access by bus. He also suggested creating a scholarship program for blacks interested in attending the police academy.
A middle-aged white woman told the audience about a recent meeting she attended with African-Americans in Ferguson. She said many in that crowd talked of feeling "very oppressed."
"We're having all these lovely ideas, but I kind of feel like we're missing the point," she said. "They feel unheard. They feel uninformed. They do not feel included."
She suggested creating another district to help diversify the city council, which currently has only one black member, and moving the city's popular weekly farmer's market to different locations around the city.
Another white woman lamented: "I was hoping this room would look a little different."
Started less than a week ago, the Friends of the City's "I Love Ferguson" campaign has already established itself as a tax-free charity, has a growing presence on social media, and has raised more than $13,000 selling t-shirts and taking donations for the signs. Since Sunday, almost 1,100 people have joined the Facebook group. A website is set to launch as soon as early next week.
A sign near downtown Ferguson shows support for the city. The Friends of the City of Ferguson group was recently formed to counter what some residents see as an unfair depiction of their community in the media in the wake of the shooting of Michael Brown by police officer Darren Wilson. Photo by Errin Whack.
The group's leader, Brian Fletcher, is the immediate past mayor of Ferguson, and was involved in city politics for nearly three decades. He said he has been "heartbroken" over the portrayal of his city and "decided to take that energy and make something positive."
"Every community like ours has two worlds," Fletcher told the crowd on Thursday. "Those that live in poverty and those that have more means. That doesn't mean we're a bad community."
But it is a community that seems to be talking past each other.
"What I've realized is that I'm part of the problem," said Sean McLafferty, 28, who came with his brother, Kyle, to the meeting.
"I know the issues that are going on, but I haven't gone out and talked about the issues," he said. "We need to get out of this side of town. This is where the power structure is. The power needs to go out and engage the people who feel like they have no part of the power and have a discussion with them.
@fusion