Nobody wanted to open the unmarked box that appeared earlier this month outside the office of ANTHOC, a health workers' union in the Caribbean city of Barranquilla.
The secretary who found the package on the building's doorstep didn't want to touch it, and neither did the policemen who were called in to inspect the mysterious box, which smelled foul and had no return address.
Eventually a bomb squad was called in to handle the situation. What they found was stomach-churning.
"There was a dog's head inside it," said Heriberto Tovar, a nurse who also leads ANTHOC's operations in Barranquilla. Next to the canine's head was a handwritten leaflet that named Tovar and seven other members of the health workers' union.
"This is how you will die, sons of bitches," the leaflet read. "May there be peace upon your grave."
G/O Media may get a commission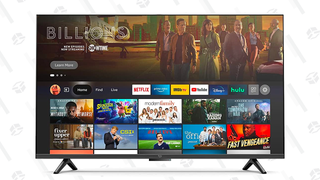 22% off
Amazon Fire TV - 50" Omni Series 4K - Early Access Deal
Death threats are nothing new to ANTHOC's Barranquilla chapter, which had five of its members assassinated between 2000 and 2005. Nor are these types of threats rare for left-leaning Colombian organizations that seek to improve workers' rights.
But human rights groups say there's been a recent and unusual spike in the number of attacks perpetrated against union leaders, campesino groups, and political parties on Colombia's far left, signaling a worrisome rise in rightwing neo-paramilitary activity—one that now threatens to destabilize the ongoing peace talks between rebels and the government.
The wave of attacks against leftist groups began in late February, and has already claimed 16 murder victims and 54 other instances of "threats and persecution" according to MOVICE, a Colombian human rights organization.
The group suspects that the string of attacks against activists is being waged by neo-paramilitary groups that have long threaten union leaders and other groups that take a stand against agro-industrial projects.
The paramilitary groups that fought leftist guerrillas and terrorized social justice movements officially demobilized in 2006. But MOVICE says a new generation of these groups, known as the Bacrim, is trying to disrupt the peace talks in Cuba between the Colombian government and the Marxist FARC guerrillas.
"This is happening just as we approach a ceasefire," said Alfonso Castillo, a spokesman for MOVICE. "I think part of the message [of the killings] is to intimidate the FARC, and let them know what awaits them if they enter politics."
It's not the first time this has happened. In the 1980s, as many as 5,000 members of a political party tied to the FARC were murdered by right wing death squads who had declared war on the guerillas and their political allies.
The Patriotic Union (UP) political party was launched by the guerrillas to have representation in political life during previous peace talks in the 1980s. Those talks ultimately failed.
Now that old pattern of violence is reemerging. The most recent victims of paramilitary violence include: a land claimant; a communist youth leader in a Bogota slum; and a campesino leader who had denounced illegal mining operations.
These activists had no formal ties to the guerrillas, but they did work on issues related to the peace talks, such as land restitution.
The murders were quickly condemned by the FARC leadership in Cuba. The guerrilla leaders, who now have their own talk shows on YouTube to keep their followers apprised of advances in the peace talks, dedicated one of their latest episodes to the emerging "paramilitary threat."
"The paramilitary phenomenon is the biggest obstacle towards peace," Edilson Romaña, a FARC commander said during the show. "In order for [the talks] to advance and for there to be a stable peace in Colombia, the state needs to commit itself to destroying all these criminal structures."
It won't be easy to do that. Criminal groups that benefit from the drug trade and illegal mining are very powerful and—history would suggest— will most likely continue to exist after the peace deal is signed.
But guerrilla negotiators and human rights organizations are trying to pressure the government to crack down on these groups as much as possible before a peace deal is signed.
"Even if a peace deal is signed, we're still going to have a problem here if there is no interest in bringing down these [paramilitary] groups," said Ingrid Vergara, a land rights activist who has received death threats and now has government-supplied bodyguards.
Adam Isacson, a Colombia security analyst at the Washington Office on Latin America (WOLA), says that while the government has made some progress in the fight against paramilitary groups by capturing more than 50 leaders in the past four years, there is still much to do in terms of breaking down their financial structures, and investigating links to local businessmen.
Isacson thinks the U.S. should use its military and economic leverage over the country to urge the Colombian government to make paramilitary groups an even higher priority.
"The U.S. has to make it clear that the paramilitaries…are right up there with the Zetas, Sinaloa [cartels] and the MS-13 as security threats, because of their ability to threaten a peaceful outcome in Colombia," Isacson said.
Although a ceasefire appears to be within reach, the rebels and the government must still negotiate the mechanisms under which the FARC will surrender their weapons. And that becomes a hard ask if the FARC feel threatened by paramilitary attack.
"These [murders] make it a lot harder for the FARC leadership to convince their rank and file to demobilize," Isacson said. "If the Colombian government cannot protect all these activists in the countryside, how are they going to protect disarmed FARC members?"
Manuel Rueda is a correspondent for Fusion, covering Mexico and South America. He travels from donkey festivals, to salsa clubs to steamy places with cartel activity.