When Don Turner answered his phone in Phoenix, AZ, on Monday morning, he wasn't expecting to field questions about Sunday's mass shooting in his home state of Nevada. In fact, Turner—president of the Nevada Firearms Coalition, the local NRA affiliate organization—wasn't even aware that there'd been a mass shooting in Las Vegas in the first place.

Turner was notified by phone of Sunday night's horrific attack on concertgoers by Vice News reporter Michael Hopper, who realized after Turner bragged "the only restriction on magazine capacity in Nevada is how strong you are" that the gun rights advocate had no idea there'd been an attack in his state. Once he was told about the attack, Turner did exactly what you'd expect a gun rights advocate to do after the worst mass shooting in modern American history: He blamed everything but the gun itself.
"When someone has that kind of mentality, it doesn't matter what kind of laws you have," Turner told Hopper. "In the emotion of the moment, there's a tendency to push anti-gun agendas. We need to find out what really happened."

Yes, we certainly need to find out what happened in a state where, just minutes before, Turner himself was bragging about how many bullets a single person could cram into their high-powered firearm at a time.
By Monday afternoon, the NFC had offered a slightly more definitive statement condemning the Las Vegas shooting, describing it as a "murderous assault on innocent concertgoers."

G/O Media may get a commission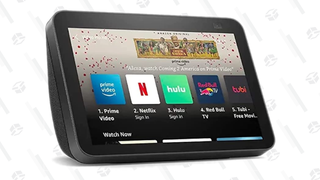 Here is the statement in its entirety:
The Nevada Firearms Coalition condemns the murderous assault on innocent concertgoers that occurred last night at Mandalay Bay Resort. Our thoughts and prayers are with the victims and their families at this sad time.

We commend the Las Vegas Metropolitan Police Department for their prompt and professional response to the scene, which no doubt helped to minimize casualties.

All well-wishers are encouraged, as their circumstances permit, to donate blood and offer other charitable services to aid the victims.

The Nevada Firearms Coalition is dedicated to the safe and responsible use of firearms for lawful purposes, of which this tragic event is not an example.

May God bless the victims and their families.
Move over, "thoughts and prayers." "Not an example" of "lawful purposes" is this year's hot new post-tragedy gibberish.