Are "the arts" important? Yes. Are museums nice? Yes. Does Mike Bloomberg give a lot of money to good causes? Yes. Is any of this a good reason to give $75 million to build a Manhattan art museum? No.

And yet Big Mike is doing just that! Specifically he has made a $75 million donation to "the Shed," which is a nice cheeky lowbrow name for a new $500 million art museum on wheels that is rising along the High Line on Manhattan's far west side. The High Line itself is probably America's best example of "urbanism to improve the lives of the rich" masquerading as a charity. The elevated park was made possible by many millions of dollars worth of fundraising by the sort of people who are wealthy enough to live in the neighborhoods that border the High Line.
It is a nice park? Sure. We should tax the rich and use public money to pay for parks using a system based on need. Rich people building parks in their own neighborhoods is not a great charity.
So, soon the High Line—and the enormous new Hudson Yards neighborhood being built alongside it—will have its own art museum. (Excuse me— "arts center.") As urban economic development projects go, this is fine and all. As targets for charitable donations go, it is awful. For $75 million, Mike Bloomberg could have restored eyesight for 1.5 million people with curable blindness or prevented 25,000 human deaths from malaria. Do you think that an 8-level rolling art space adjacent to multimillion-dollar condos is as good a use of charitable donations as those things? It's not! "But that's his choice." Yes—his choice is bad. "Well he wants to help the city of New York." Okay, give the money to fix the subways. "But it's for the arts in the city of New York." Okay, build a museum in the South Bronx. Manhattan already has lots of fucking museums.
Rich people are trying to pass off their own personal neighborhood improvement projects as philanthropy—and I'm sick of it!!!
G/O Media may get a commission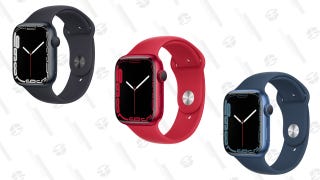 Up To $45 Off
Apple Watch Series 7
Previously