Students at Cliffside Park High School in New Jersey walked out of a class this week after a teacher confronted them for speaking Spanish and told them to "speak American."
The English teacher, who was substituting for a different class at the time, can be heard telling students on a video circulating on social media: "…Men and women fighting are not fighting for your right to speak Spanish, they are fighting for your right to speak 'American.'"

"American" is a term that can be used to describe anyone born in almost the entire Western Hemisphere, and it's certainly not a language.

"You're being racist," a student says as several walk out of the classroom. "I know how to speak English."

"Goodbye," the teacher, whose name hasn't yet been reported, said while pointing toward the classroom door.

G/O Media may get a commission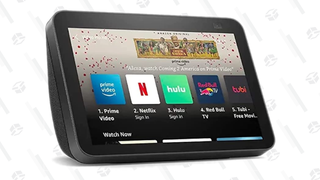 According to Fox59, many of the students at the diverse Cliffside Park High School come from Spanish–speaking homes, and the teacher has a history of "degrading Spanish–speaking students."

"If we were speaking Spanish in the hallways, she would single us out and say, 'No, you can't speak Spanish here,'" one student told the news station.

Another student named Nicole, who did not give her last name, told NorthJersey.com that, "As a Latina, that hit home to me. It's 2017. People should stop being close-minded. It doesn't show a good image to the school. I don't want people seeing the video and people thinking that all of the teachers are like that."

While some are calling for the teacher to be fired, others at the school are defending her, saying on social media that she is a "great person" and a "wonderful teacher," the International Business Times reported.

The school's principal reportedly met with students on Friday to discuss the incident. Several students say they plan to walk out of classes on Monday in protest.