New Jersey Assemblyman John Burzichelli wants to help students drowning in debt by setting up a Student Loan Lottery.
In a bill introduced on June 29, the Democrat made his case. New Jersey, he says, benefits from an above-average percentage of college educated state residents. But while the state overall is seeing higher average incomes because of this, individuals are saddled in debt:

"In New Jersey, 70 percent of graduating students graduated with student debt in 2013, the fourth highest percentage of any state in the U.S.  Further, a large percentage of the population of approximately 8.9 million people in New Jersey has student debt outstanding."
Burzichelli thinks that a Student Loan Lottery could help. The rules, as laid out in the bill, are designed to prevent students from using their winnings for anything aside from repaying their debt—and to make sure they don't spend too much money on the lottery itself. Per the bill, each ticket can't cost more than $3, and students who qualify for the lottery aren't allowed to spend more than 15 percent of their outstanding loan balances on lottery tickets. It's not clear from the proposal how, exactly, these rules would be enforced.
The bill has raised some eyebrows. The Asbury Park Press responded with a scathing editorial. "It is only July," they write, "but we may already have a winner in the annual 'Dumbest Bill Proposed by a New Jersey Legislator.'" Ouch.
G/O Media may get a commission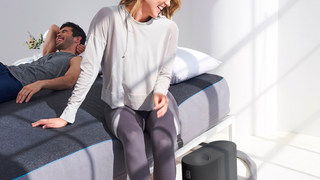 Eight Sleep Pod Cover
"Forget for a minute the folly of the idea. What about paying taxes on the jackpot? If winners had to pay taxes on their winnings, would that not defeat the purpose of the bill? Actually there are more questions than answers when it comes to this legislation."
According to the Press, Burzichelli's time would be better spent "advocat[ing] for other possible federal solutions to the crisis, including allowing students to refinance the debt they have."
Concerns over how taxes would be handled were also raised by advocacy group Student Debt Crisis' Natalia Abrams, who told NJ.com: "If an $80,000 loan is paid off, who is paying the taxes? Those could be very high tax bills for those who are very low-income. This isn't extra money they're winning like a regular lottery… Even if they got their student loan paid off, they might have 20 or 30 percent of taxes to pay off."
It's not surprising that reactions against the bill are so extreme—lotteries are often referred to as a tax on the poor (or, less generously, the stupid) and the odds of winning the (regular) lottery are very, very, very low.
But Burzichelli argues that the odds improve when the pool of players is constrained to those with college debt, improving the odds relative to the traditional lottery. And, to be fair, Burzichelli isn't the first one to push for a Student Loan Lottery. A petition on MoveOn.org is asking President Obama to set up a Student Loan Lottery game:

"I request that we consider a nationwide Student Loan Lottery game. Players (both with debt or without) could purchase tickets either online or at convenience stores. Jackpots could be used to pay student loan debt incurred to that date, if short, remaining debt would remain, if some funds remained following payoff—they could be added to the future jackpot. In essence, we could pay off each others student loan debts and truly make a difference."
That petition has 86 signatures, so far.
Burzichelli's office did not immediately respond to a request for comment.
Danielle Wiener-Bronner is a news reporter.